An offline dictionary application is one of the most necessary pieces of software for a PC. Whether you are a writer, blogger, student, teacher, or a day-to-day computer user, a dictionary app always helps you find definitions of new words, any words you have forgotten, or find out the antonyms of a word. Therefore, keeping an offline dictionary application on your PC is always a better idea. Because you can anytime access an offline dictionary on your PC without an internet connection. In this article, we have written about the five best offline English dictionary apps for Windows PC users.
Best Offline Dictionary for PC:
An offline dictionary app is more useful than an online dictionary because you always need an active internet connection and a web browser to use an online dictionary as it needs to download the required data from its server and therefore it is a little bit slow. But an offline dictionary is a complete thesaurus that contains all the words, references, synonyms, antonyms, etc and so it can show the definition of a word instantly.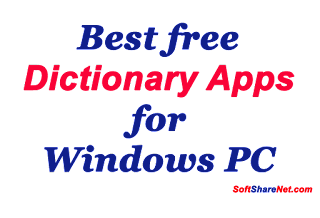 Best Offline English Dictionary App for Windows:
There are several offline dictionary software available for PC and you can easily download them from the web. But finding a dictionary that really has all the features you want is not so easy. There are several such vocabulary apps available but they might not work as you think. Some of them contain nasty ads or malware, unnecessary features, some eat huge resources and make your PC slow, etc. 
But now you do not need to research for downloading a better dictionary, as we have put the 5 best free English dictionaries in one place for you. On this page, we have shared the five best offline dictionary applications (English dictionary)and you can install any of them on your Windows PC. These are 100% free to download and use. These offline dictionaries support Windows 10, 8, and Windows 7 computers. Additionally, we will also share the official links to download the latest editions of those free dictionary apps for Windows PC. Most of these apps are also available for Smartphones. Below are the five free offline English dictionary apps for Windows:
There are plenty of free and paid dictionary apps available for PC, but one of the best and the most widely used app is WordWeb. This is an offline English dictionary for PC and Smartphones that offers some very useful and necessary features.

WordWeb is one of the best offline dictionary apps for both PC and smartphones. It is a perfect free English dictionary application that currently has more than 165000 root words and over 130000 synonyms and it also provides pronunciation and usage examples for over 70000 words. It is available for different operating systems such as Windows, Mac, Android, etc. It is one of the active offline dictionary software that gets regular updates from its developer.
WordWeb is very user-friendly and easy to use. It is a one-click English dictionary and thesaurus software for Windows. Once you installed the WordWeb, just right-click on a word after holding down the control key on the keyboard and the result will be displayed instantly. WordWeb can look up any word almost in any program.
Although WordWeb is a paid software, however, you can use the free version without too many restrictions for an unlimited time. You can read about WordWeb's free version licensing here.
About WordWeb free version:
Publisher: WordWeb Software

Price: Free (Paid version available)

OS support: Windows all, Mac, Android.
Download WordWeb for Windows PC using the below download link:
Download WordWeb
[The Most Popular Article]
14 Must-Have Software for Windows PC
The Ultimate Dictionary is another free offline English dictionary program. It is a very popular multi-language dictionary software for Windows. It contains a set of dictionaries, thesauruses, and glossaries for English, Spanish, French, and Polish words. It has a friendly interface and it is easy to use. Whenever you type a word in its search box to look up the meaning in the dictionary, it searches all the available dictionaries (the dictionaries it contains) and displays the definition from every dictionary.
Ultimate Dictionary is available for almost all Windows operating systems. The size of the installer is quite larger (158 MB) compared to other offline dictionaries as it contains 33 different dictionaries. 
About Ultimate Dictionary:
Download Ultimate Dictionary:
TheSage English Dictionary and Thesaurus:
TheSage's English Dictionary and Thesaurus is a very useful free offline dictionary for Windows PC and is now also offered for Android smartphones. It is a comprehensive dictionary and thesaurus that contains more than 210,000 definitions of words. It also has a huge thesaurus that contains over 1,900,000 synonyms, antonyms, hypernyms, hyponyms, meronyms, holonyms, etc. 
TheSage has a standard and
professional-looking user interface and it is easily understandable. Along with the definitions of a word, it also provides the origin of the word, part of speech,
synonyms, antonyms, 
hyponyms, etc. 
About TheSage:
Download TheSage, a Free English dictionary using the link below:
Artha ~ The Open Thesaurus:
It is a cross-platform free English dictionary software developed based on WordNet. Artha is an open-source free offline English dictionary and thesaurus software for Windows and Linux computers. It is a simple, handy, but effective English dictionary that lets you easily find definitions, synonyms, antonyms,
derivatives, etc of any words. 
It's a lightweight application and also hassle-free to use.
Like the WordWeb app,
 it also runs in the background and 
can be accessed from
 the system tray of your PC 
using a shortcut after highlighting a word in any app. This dictionary software can be used as an alternative to the WordWeb dictionary.
About Artha Dictionary:
Name: Artha ~ The Open Thesaurus

Version: 1.0.3.0

Developer:  Sundaram Ramaswami

Installer size: 12 MB

License type: Free/Open Source
Download the latest Artha free offline Dictionary for Windows
Advanced English Dictionary
The Advanced English Dictionary or shortened AED is a great and one of the best offline dictionary apps for PC that can help you find word definitions and relations as well. It has a very simple and attractive interface without any clutters.
The Advanced English Dictionary is another best offline dictionary for Windows PC that has every expected feature that users want from an offline computer dictionary. Besides showing the definition of a word, it also provides both US and UK English pronunciations, figures of speech, etymology, and even an image for word definitions. The built-in database of this app contains meanings of over 400000-word entries. On the other hand, it has a user-friendly, clean, and very modern interface to provide a better experience.
About Advance English Dictionary (AED):
Publisher/Developer: Cosmos Chong‬




Price: Free



File size: 28 MB


OS support: Windows 11, 10, 8
Download it from Microsoft Store
[Popular Software]
Five Free PDF Readers for Windows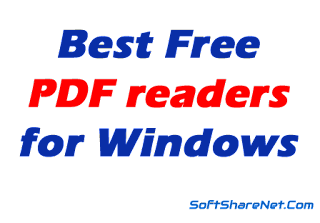 Conclusion:
There are several other offline free English dictionary applications available out there. Every dictionary app has its own features and functionality. But, most of the, you can not depend on any of these apps because if there is a lack of facilities in one, then the other has a shortage of most of the words, and using these unreliable apps will only cost you money and time. And finding the best offline dictionary for your PC is not a very simple task as you need to compare several points.
But we have made it simple and the dictionaries listed above are some of the finest and most popular free offline English dictionaries for Windows computers that we have tested ourselves. These dictionary apps are more beneficial for students, teachers, English learners, and day-to-day users. Also, you can use these free apps as the best free alternatives to paid dictionary apps. You can download the latest versions of these best offline dictionary apps for Windows PC through the links shared above and access them anytime without having an internet connection after installing them on your PC.
Related Topics