Microsoft Edge for Windows 7, 8 PC: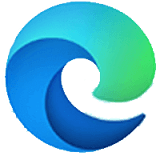 Microsoft Edge for Windows 7 (64-bit and 32-bit) is a popular internet browser built using the same source code as Google Chrome. Microsoft Edge Download for Windows 7 is now a powerful browser with additional built-in features like a Startup boost to make your browser start up quicker, sleeping tabs to free up memory, and a performance booster to enhance your browser's performance. You need Edge 109 for Windows 7.
Why Do You Need Edge 109:
You may be aware that Microsoft has abandoned Windows 7 and 8, hence there are no updates and security fixes available to these old versions of Windows OS. Along with this, Microsoft also discontinued its browser support for Windows 7 and 8 systems and the last release of Edge browser that supports Windows 7 and 8 PC is Edge version 109.0
Edge 109.0 is here to download and install on old PCs that run Windows 7 and 8 operating systems. Because the latest versions of Edge only support Windows 11 and 10 OS. Microsoft Edge Download for Windows 7 64-bit and 32-bit PCs from here.
Technical Details:

| | |
| --- | --- |
| Name | Edge for Windows |
| Developer | Microsoft |
| Website | www.microsoft.com/en-us/edge |
| Version |  109.0.1518.140 |
| License | Freeware |
| OS Support | Windows 8, 7 (32/64-bit) |
| Installer Type | Standalone installer |
| Category | Web Browser |
| Rating | |
Edge Download for Windows 7, 8 PC:
Edge 109.0 32-bit, Size: 127 MB
Edge 109.0 64-bit, Size: 139 MB
Or
Download Google 109 for Windows  PC:
Features of Edge Browser:
Microsoft Edge Download for Windows 7 PC is also packed with many useful additional features to offer Efficiency Mode for long battery life, Gaming Performance booster, and the latest security. Here are some notable features present in Edge Browser 109.0:
Text Prediction:
Text Prediction is the new feature added in Edge Stable 109. It enabled the browser to predict text to help you write faster and with fewer mistakes. It can make word and sentence predictions for long-form editable text fields on web pages. However, text prediction is currently only available in English in the US, India, and Australia.
The Efficiency Mode helps you run the browser without consuming too much battery. It saves an additional 25 minutes of battery life on average and conserves your computer's resources and still provides optimal performance, security, and battery life.
Startup Boost:
It has added The new Startup boost feature. This feature keeps the browser running in the background with minimal processes, so Microsoft Edge will start more quickly when launched.
Gaming Friendly:
Like OperaGX gaming Browser Microsoft Edge also tries to make it a gaming-friendly browser by including exclusive Xbox features and other unique built-in features like a dedicated Gaming homepage and Efficiency mode, which improves PC gaming performance. Basically, it improves PC gaming performance on Windows 10 and 11 by reducing browser resources when a game is launched.
Microsoft Defender SmartScreen:
To ensure safe internet browsing, Microsoft Edge includes a security feature Microsoft Defender SmartScreen. The Microsoft Defender SmartScreen is an essential security feature that provides an early warning against websites that might engage in phishing attacks or contain and attempt to distribute malware and helps keep you protected and secure online.
Password Monitor
Edge's Password Monitor helps you protect your online accounts by informing you if any of your passwords have been found in a data breach. Microsoft Edge securely checks your saved passwords and notifies you upon finding an online leak.
Kids mode:
Kids Mode is a safe and kid-friendly browsing mode found in Microsoft Edge that is specially designed for kids so that they can explore the web safely without requiring a child account or profile. In the Kids Mode, edge provides children-friendly content, browsing based on an allow list, Bing SafeSearch set to strict, and a password requirement to exit.
Standalone Installer:
To install Edge Browser on your PC, you can download both the Edge online and offline installer. After downloading, the online installer requires an active internet connection to install the browser, but the offline installer contains all the required files and data and therefore it does not need an internet connection while installing Microsoft Edge on your PC. You can download Microsoft Edge offline installer from here.
So, what are you waiting for, download Microsoft Edge for Windows 7, 8 PC from here for free and enjoy your online activities.
Related Software