The built-in security application Windows Defender definitely comes with Windows 10, but is it strong enough to defend against the latest malware, ransomware, and latest viruses? Most PC users know that Windows has a pre-built antivirus protection called Windows Defender. Which is a decent security program to remove most malware and viruses. But is it enough to protect your PC from the latest ransomware, zero-day attack, or virus? So what is the solution? How about the free antivirus software for Windows?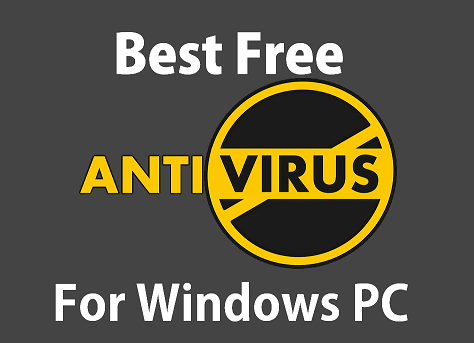 Although Windows 11 is now available in the market, Windows 10 is still the most widely used popular desktop operating system. Since Windows 10 has millions of users worldwide, it is the main target for hackers and malware creators who trying to gain access to computer systems using various techniques. With thousands of adware, Trojans, viruses, ransomware, and other dangerous and harmful content available on the web these days, keeping your computer safe with a reliable security suite has become more important than ever.
As you may have heard or know that the built-in security of a computer isn't as effective as some of the best third-party antivirus. Therefore, it is better to install a good antivirus to provide additional protection to your computer. Fortunately, you can fill your computer with an antivirus without spending your hard-earned money. There are quite a few free antivirus for windows 7, 10, and 11 PC available nowadays so that you can protect your PC and devices without spending a single dollar from your pocket.
Besides these free antivirus for PC, there are several premium antivirus programs available that can be used for both personal and commercial purposes. The popular premium antivirus programs for Windows typically require an annual paid subscription, but some reputable brands also distribute free versions of their software, which are usually allowed for non-commercial use only.
Most of the time, these free antiviruses include the same scanning engine and malware definition files but exclude some additional features and most importantly, provide minimal support options. If you use any free antivirus on your PC, you will frequently see annoying ads and sales offers on your computer as antivirus developers try to convince you to buy a subscription plan or upgrade to premium.
We spend a lot of time trying to find the Best Free Antivirus for Windows PC, and when we find lists of free antivirus on the internet, we often can't determine the best antivirus to use. However, before downloading or installing an antivirus, you need to check a few things. Suppose your antivirus definitely has the ability to root out existing malware and perform essential tasks such as preventing ransomware, botnets, Trojans, and other nasty programs from entering the computer.
However, it is always confusing when you have to choose a particular name from a huge list. So here we have listed 6 of the best free antivirus for PC that will surely help keep your computer safe from modern threats, viruses, ransomware, malware, phishing attacks, and many more. All of the programs listed here are completely free and suitable for personal use.
Along with its powerful antivirus engine, these PC security apps are always running so that your files are safe from malware and your personal information is protected. Additionally, you can launch on-demand scans whenever you want, and most importantly they perform automatic definition updates to stay up to date. Here, we are also sharing the links to download free antivirus for PC.
Best Free Antivirus for Windows:
Each different product has a few specific differences that set them apart from one another, so pay attention to them when deciding which one to use.
Avast Free Antivirus:
Avast Free is one of the best free antivirus software for Windows PC that is used by millions of people worldwide. If you want a powerful antivirus program that is capable of blocking new threats but is still easy enough to maintain, you should consider using it.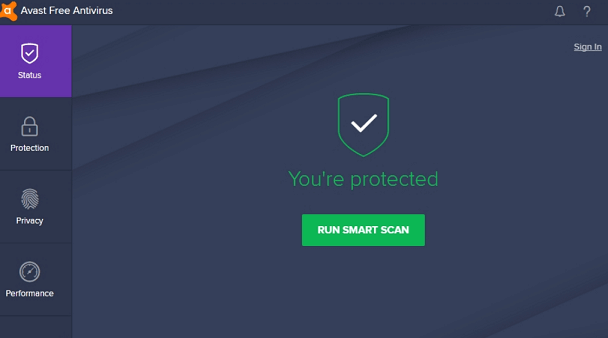 Avast is customizable and lets you change everything from whether it sounds when threats are detected and how long notifications stay on the screen, to the type of file extensions to be scanned. As we said above, it updates its both virus definition and program automatically but a manual updation option is also available. Therefore, when you have Avast installed on your PC, you can let it do its thing without worrying about whether you're running the latest version.
Avast Free has several more features included like scheduled scans, custom scans that can check only memory, rootkits, auto-start programs, etc. It has the option to check all files or only some file extensions, and can protect against ransomware, scanning for potentially unwanted programs, follows shortcuts to scan real files, self-extracting DOS and Win32 executables and 7Z and RAR, Windows Explorer context menu setting, folders, exclusions for HDDs, and URLs, custom scans that are easy to save for future use, a rescue disk tool that lets you use the Avast scanner even if you can't start your computer, etc. The special areas of the application can be protected with a password.
When you choose Avast,  then you also have the option to include several useful tools like Web and Mail Shield; Behavior Shield, software updater, browser cleaner, rescue disk, password manager, junk file cleaner, game modes, browsing addon for safe browsing, etc.  If you just want antimalware protection, you can install Shields from the beginning of that list; The rest are add-ons that are not needed but can be helpful at some point. You can install these tools (addons) at the beginning and then disable or remove them later completely or you can ignore them during setup and install them later.
Pros and Cons of Avast Free:
Pros
Excellent score on antivirus lab tests

Available for Windows, macOS, Android, and iOS

Offers convenient smart scan

The basic protections are very reliable

Add-ons allow you to increase security.

Easy to customize.

Includes privacy and performance features
Cons
Advanced firewall features are absent

Many useful features need to purchase.

Frequent annoying pop-ups and notifications

Other tools like password managers are for trial only.
These are some solid reasons that this program ranks at the top on almost every list of the best antivirus of antivirus programs. Avast Free Antivirus is compatible with Windows 11, 10, 8, and 7.  You can read more about Avast's free version and download it for PC using the below link.
Read More and Download Avast Free
Kaspersky Free
Kaspersky Free is a great choice if you want a simple program that provides lots of features. It's easy to use and offers essential services like anti-virus, anti-malware, and anti-ransomware protection, as well as many advanced options if you care to check them out.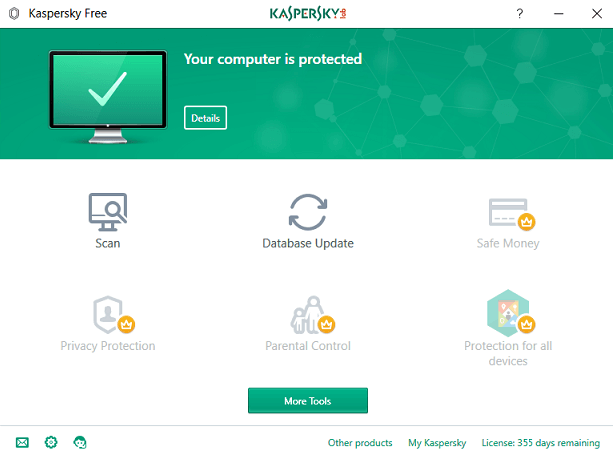 Kaspersky Free a free antivirus program is a good choice for those who need a strong virus scanner along with malware and ransomware protection for free. It is another highly-rated antivirus with a good amount of benefits. This free AV suite doesn't try to install any extra software. During installation, it will ask you to create a Kaspersky account and remind you to try a 30-day free trial of its premium services. It is easy to use and offers many advanced options if you care to look.
This free antivirus software protects your PC from viruses and removes malware, trojans, ransomware, malicious applications, infected files, and other threats from damaging your device and data. In addition to these essential security features, it has the ability to detect rootkits and can delete malicious tools, adware, auto-dialers, suspicious packages, game modes, and so on. It offers file and web scanners as well as network attack blockers, AMSI protection, mail anti-virus, secure browsing, multiple scan mode, and so on.
The other two most useful tools included in Kaspersky's free version are a free VPN and a password manager. It comes with a powerful VPN that provides 200 MB of daily usage for free to help you surf the web safely and anonymously. The Password Manager, on the other hand, secures your passwords and key documents and syncs them across all your devices. In the free version, the features of these tools are limited.
Other notable features included in this powerful antivirus include automatically pausing the scanner when specific applications are launched or at certain times of the day; selecting what happens when a threat is detected, auto-scan external drives or prompting them to scan during insertion, and frequently scheduling quick or full scans every minute or at a specific time, or after every update or app launch; Self-defence is another useful feature that stops all attempts to change or delete Kaspersky's processes, registry objects, and installation files
Overall, Kaspersky Free version is a good antivirus program that comes with top-rated security technologies which are designed to protect your devices. It offers much more powerful features than its rivals. Additionally, it is very lightweight and has less impact on the device performance and the automatic database update feature always keeps this program up to date and that's why it is listed in the list of the best free antivirus for Windows
Pros and Cons of Kaspersky Free:
Pros
Provides excellent antivirus and ransomware protection.

Perfect scores from independent lab tests.

Strong malware-blocking and phishing protection.

Bonus features include limited VPN.

Clean and easy-to-understand user interface.

Unique features that are not found in other programs.

Email protection.

Lots of options you can customize.

Very simple setup.
Cons
You will need to create a user account to activate the free version.

The free license must be renewed each year.

VPNs are limited; only 200 MB per day.

Slow installation.

No direct tech support
Get Kaspersky's free antivirus program for Windows 11, 10, 8, and 7. You can also get this app with the same name for Android and iOS.
Visit here to know more about Kaspersky's free antivirus.
AVG Antivirus Free:
The free Antivirus program for Windows by AVG does similar jobs to Avast free version. AVG AntiVirus FREE provides essential protection such as it stops viruses, spyware, and other malware, blocking unsafe links, downloads, and email attachments, Phishing protection, etc. It performs scans quickly and silently without affecting device performance. AVG blocks all unauthorized changes to protect files from ransomware. It has a powerful ransomware scanner and removal tool.
AVG AntiVirus Free has an easy-to-use interface meaning you won't have to waste time navigating confusing menus. Also, it is highly customizable. You can either install it and leave the settings alone to get regular security, or go to the settings and make adjustments to just about anything. Additionally, it automatically downloads and installs real-time security updates and keeps its database up to date.
During setting up the program, you are in full control so you can choose which option should be enabled or disabled after installation. These include the following options: File Shield, Behavior Shield, Web Shield, Email Shield, File Shredder, Cleanup, browser extension, and Do Not Disturb Mode.
AVG comes with a multiple-scan mode that allows you various scanning features like Deep Scan, File or Folder Scan, Boot-time Scan, USB/DVD Scan, and Performance Scan. These advanced modes help you for scanning your device for malware, spyware, dangerous scrips, viruses, etc. Also, you can customize and choose the file type to scan. For example, you can include all files to scan or scan particular types of files such as executables, which might contain malware.
Pros and Cons of AVG Free:
Pros
It has shown good results in lab tests

Boot-time scans remove persistent malware

Installation is simple and is done in a few minutes

User-friendly interface.

Lets you choose what to enable during installation.

Automatic definitions and program updates.

You have complete control over how things work.

Minimal impact on computer speed
CONS
The initial scan is slower than average.

The boot-time scan is very slow.

There is no parental control.

It finds performance issues but needs upgrades to fix them.

Some features displayed cannot be enabled in the free version.

Annoying advertisements for AVG Internet Security.
AVG AntiVirus Free is a comprehensive security solution for protection against ransomware attacks as well as many other types of malware and online threats. Download AVG free for Windows PC. It supports Windows 11, 10, 8, 7, and XP operating systems.
Know more and download AVG for PC here
Avira Free Antivirus:
Avira Free Antivirus is powered by their famous antivirus engine called Macrovirus which offers protection against various types of malware such as viruses, worms, trojans, ransomware, etc. This security suite works entirely in the cloud. This makes Avira very fast, and lightweight, and minimizes system resources. This feature is called Avira Protection Cloud which lets Avira's antivirus tool identify and stop threats before they get out of hand.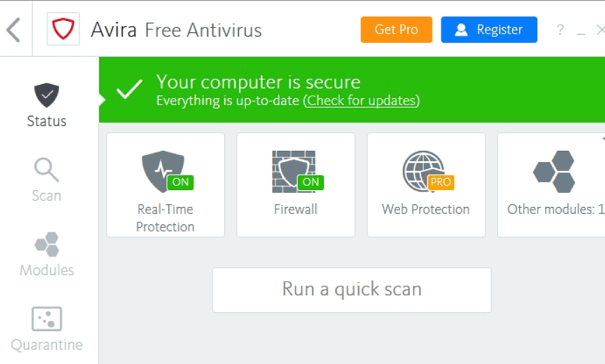 Avira Free includes antivirus protection, a basic password manager to securely store critical passwords, a file shredder, and a free VPN that encrypts all your traffic with a 500MB allowance per month. Other features include a shopping deal-finder to help you find the best shopping deals online,  active ad tracker prevention, and a comprehensive privacy settings checker. These supplementary modules improve Virus Shield and provide additional services related to security and privacy. Avira also scans vulnerable apps for missing security patches and lets you manually fix the problem if any are found.
Avira Security Cloud Technology provides even better protection by scanning files for malware in real-time using their cloud engine. Advanced Heuristic Analysis and Detection (AHeAD) protects against new and unknown malware. The free version also includes a ransomware protection feature that is an essential feature these days. It doesn't have quite as many features as the Avira paid version but it will work for a free suite. Like Avast's free offering, Avira Free Security is a free version of a complete security suite. All features are visible, but many are locked.
When it comes to virus scans, it scans your PC and provides real-time protection for your PC. It can scan on a schedule, check files with any file extension or just check files you manually select. It disables the ability to stop active scans to prevent the virus from finding the program. The virus scanner can adjust the priority level, scan primary boot segments, follow symbolic links to scan real files and detect rootkits before initiating a scan.
Other features present in the free version include scanning the Windows registry, ignoring files on network drives, automatically repairing, renaming, quarantining, ignoring threats when deleting or restoring, ignoring files, adding files, folders, and processes to the ignore list, Windows Firewall Settings, etc.
Pros and Cons of Avira Free:
Pros
Excellent scores on most lab tests.

Well-built features than many free antiviruses.

Includes free VPN and password manager.

Optional additional downloadable security layers.

In-the-cloud antivirus process.

Easy to use and install.

Simple and unpretentious.
Cons:
Severe bandwidth limitation for VPNs

Sometimes they perform poorly against modified malware and virus attacks

Most add-on components need to be bought to be fully functional.

Some extra features are annoying.
Avira Free Security is designed to run on all new Windows versions including Windows 7 and newer computers.
Panda Free Antivirus:
Panda Free Antivirus for Windows desktops and laptops is another lightweight and secure PC security application that can detect significantly more adware, spyware, and ransomware files than Windows' built-in security tool. Panda's real-time protection also worked really well, blocking most malware files instantly.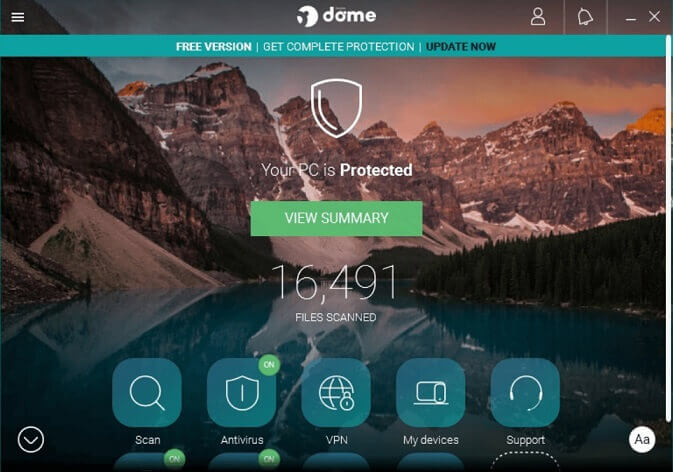 Panda Security Free Antivirus Program installs in minutes and has a minimalist design. You can find important buttons on the front, while additional options are housed within the menus. Although it doesn't appear to be customizable, many of its options are hidden in the program's settings. You can do things like set up both on-demand and automatic scans to check compressed files and scan for potentially unwanted programs from there.
Note that this program will change the search provider on your home page and in your web browser. To prevent this issue, you can uncheck those options during installation.
The Panda Free version offers basic antivirus protection, a free but limited (150MB per day) VPN to browse the web anonymously from a virtual location, scanning USB drives and other external devices to prevent unwanted infections, etc. The automated, persistent scanner also includes some additional options, such as behavioral and analytics scanning options, the ability to ask you before disabling viruses, and preventing files from running until it gets results from the cloud that they are safe or harmful. There are multiple scanning modes available such as a full system scan, custom scan, memory scan, etc
It has many useful security features, among which the Rescue Kit feature makes Panda a good choice for Windows users as it allows you to download a bootable version of Panda to a USB drive and then use the USB drive to clean an infected PC and makes it run again. This feature is really rare in free antivirus programs.
Another unique nature of Panda Free Antivirus is, its security news and alerts section shows you critical warnings and informative messages such as when a popular vendor experiences a data breach that could affect your personal information. However, this feature can be disabled or turned off if you don't wish to see it.
In addition to these essential features, there are several other features available to you such as protecting the entire application using a password, quarantining empty frequently, disabling notifications when in full screen, excluding files/folders/extensions from scans, USB or removable device scan, protect against malicious websites using Panda Safe Web, and more.
Pros and Cons of Panda Free Antivirus:
Pros
Minimal impact on system resources.

Simple and friendly design.

Security news regarding the latest news of breaches and threats.

Vaccinates USB drives against malware.

Bonus features include limited VPN.

Attractive interface calm background.
Cons:
Failed to remove some modified ransomware samples.

The full system scan is slow.

Resets the browser's home page and default search engine unless deselects during installation.

There is no protection against dangerous or fraudulent URLs.

Includes advertisements in the free version.
You can download and install Panda Free Antivirus on all the latest Windows versions.
Get Panda Free version here for Windows
Additional one: Malwarebytes free:
Although Malwarebytes Free is a popular antivirus tool, but we are not able to include it in the list of top 5 free antivirus software for Windows. Because first of all, it doesn't provide live virus protection. It works as a virus-removal tool. In fact, it is not an antivirus program, but rather a very useful malware-removal tool. On the other hand, its malware detection ability is a little bit weak than some of its rivals.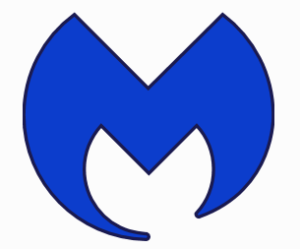 Malwarebytes Free, which was formerly called Malwarebytes Anti-Malware does an excellent job of cleaning up malware already on your system as well as removing adware and potentially unwanted programs that could be causing problems. It is a minimal antivirus scanner with good virus detection and removal rates. So you can call it a countermeasure, not a live virus protection tool. To get real-time virus protection, you need to upgrade it to Malwarebyte Premium.
Malwarebytes Free is a great choice for users looking for a simple antivirus scanner that they can install and forget about. Its virus scanner uses a virus database as well as heuristics to catch all types of malware. It has anti-malware and anti-exploit protection which works very well.
In addition to the scanner, you also get a browser extension that blocks a host of threats including malware, phishing sites, ads, trackers, scams, and popups. One of the nice features of this extension is that all protections are turned on by default, so there's nothing for you, but also lets you turn off one or all protections easily.
Pros and Cons of Malwarebytes Free:
Pros: 
Detects and removes malware and other advanced threats.

Lightweight.

Automatic scans

Stops vulnerabilities in apps and systems

Free Google Chrome extension for Chrome

Prevents loading of malicious and fake websites
Cons:
Real-time protection is only in the paid versions.

It works as a countermeasure rather than a live defense measure.
Malwarebytes Free is available for Windows and Mac. You get it for Windows 11, 10, and 7 PC using the link below for free.
Conclusion:
With the number of online threats increasing every day, you need a decent antivirus program to protect your sensitive information from hackers and malicious programs. As you know, there are many antivirus software available for PC, and these are some of the best free antiviruses for Windows PC mentioned in this article. Hopefully, the antivirus software listed in this article will help keep your device safe and trouble-free.
It has been observed that in order to further protect their computers, some people attempt to use two antivirus software at the same time; Which is completely wrong. One thing to remember, whatever you do, don't use two real-time antivirus software at the same time, because it will do more harm than good.
Of course, most antivirus software will give a warning about the presence of other incompatible antivirus products installed on your computer or they won't install at all unless you remove your previous antivirus software.
Popular Articles