TheSage's English Dictionary and Thesaurus is a very useful free offline dictionary for Windows PC and is now also offered for Android smartphones. It is a comprehensive dictionary and thesaurus that contains more than 250,000 definitions of words in its index and the dictionary contains approximately 320,000 senses, 86,000 etymologies, 70,000 examples of use, and 180,000 phonetic transcriptions. TheSage's thesaurus contains approximately 1,900,000 relationships between words and definitions, from synonyms and antonyms to hypernyms, hyponyms, meronyms, holonyms, etc. As a corpus, TheSage is comprised of approximately 14.1 million words.
The interface allows the user to extract and collect information from the knowledge database in a variety of ways. This is accomplished by means of the tools shown in the left Navigation panel. TheSage has a standard and professional-looking user interface and it is easily understandable. Along with the definitions of a word, it also provides the origin of the word, part of speech, synonyms, antonyms, hyponyms, etc. 
Like WordWeb, this offline dictionary also has the "Word Capture" feature. It is a unique feature that allows the app to look up words directly from almost any program. This offline dictionary app can capture words directly from almost any program. It has two methods in order to capture a word in another program: mouse and keyboard.
The Sage is a so-called "one-click" dictionary. By default, it is possible to look up a word directly from other programs by placing the mouse pointer over the word and right-clicking while pressing the CTRL-key. The default key-click combination can be changed via the Mouse page in the Options dialog.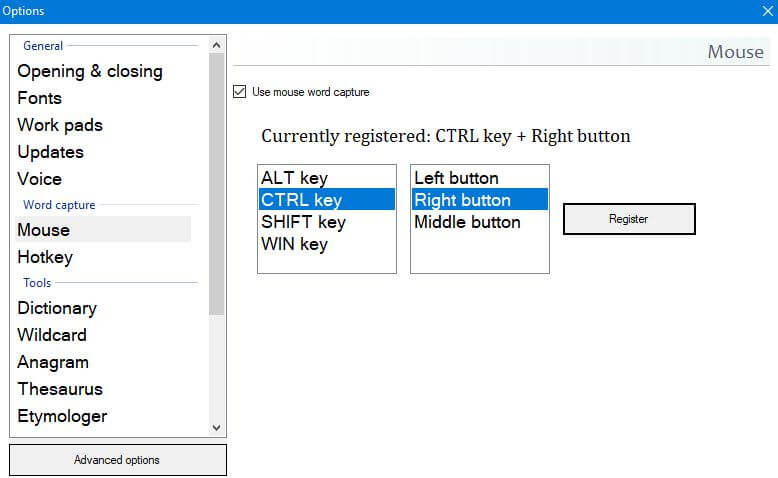 Using TheSage dictionary app, you can look up words directly from other programs via the keyboard shortcuts. This is accomplished by selecting the relevant word in the appropriate program and by pressing its hotkey. TheSage will then read the word and carry out a lookup automatically. By default, TheSage's hotkey is Ctrl + Shift + A but users can choose any combination of keys they want to use through the Hotkey page in the Options dialog.
Technical details:
Publisher: Sequence
Website: www.sequencepublishing.com
Price: Free
OS support: All Windows OS, Android
Size: 60 MB
Category: Offline Dictionary
Added on: 18 December 2021
Download TheSage for Windows 10, 8, 7
Related Software