The new Microsoft Edge for Windows PC has all the latest features, that a modern web browser should have. It has a simple and user-friendly interface, similar to Google Chrome, a powerful engine, faster browsing speed, and many other useful features that make it a perfect internet browser. This Chromium-powered browser can now be used as a full-fledged alternative to the Chrome browser.
Edge browser is back with all-new features to compete with Google Chrome. Edge download links for Windows are listed below. Here you can download Microsoft Edge for Windows PC directly from its official source for free.
Microsoft Edge has built-in AI-powered features that enhance your browsing experience including a side-by-side view making it easier and faster to shop, get in-depth answers, summarize information, or discover new inspiration to build upon, all without leaving your browser or switching tabs.
The new Edge browser is available for all the latest Windows versions such as including Windows 11 and 7 operating systems. It has both 32-bit and 64-bit installers separately and you can get Edge offline installer using the direct download links shared on this page. These installers can be used to install the Edge browser on almost any Windows PC. The latest stable release of Edge is 117.0.
Microsoft Edge is a new web browser developed by Microsoft based on the Chromium source code. This browser uses the Blink engine as a primary browser engine to render web pages. Blink is a very powerful browser engine, which is also used by several popular web browsers including Google Chrome, Opera, Vivaldi Browser, etc. On this page, you can free download Microsoft Edge for all supported Windows PC.
User Interface of New Microsoft Edge :
The new Edge browser has a simple but customizable interface. You can easily change the front page or home page layouts, customize the quick links in the home page to access your favorite site instantly, change language, easily show or hide Microsoft news, etc. You can install different extensions directly from the Microsoft Store. It also supports browser extensions from other stores.
Microsoft Edge home page
Like the Chrome Browser, you can access the settings and other options of the browser by clicking the three vertical dots " … " situated at the top right corner of the browser window.
Microsoft Edge offline Installer:
If you want the Microsoft Chromium Edge's offline installer download links, you can not find them on their official download page as Microsoft has not yet provided any direct links to get the new Edge offline installer on their download page. Microsoft now only provides the online installer on their download page to install the latest Edge browser. But on this page, we are sharing the Microsoft Edge offline installer download links to help our visitors.
If you want to install the browser on any computer using the online installer, every time it needs to download the required files and data from its servers to complete the installation. Because the online installer doesn't contain all the files required to install the browser and it needs an active internet connection to load the setup files from the Microsoft server to complete the installation process. You can learn more about the difference between offline and online installers here.
If you want to install the browser once and only on one computer, then you can use the online installer. But if you want to install the browser on multiple computer systems, then you should download and use the Microsoft Edge offline setup file to install the browser. You can use the offline installer to install the browser on different computers for unlimited times and it does not require any internet connection during installation.
Just download the Microsoft  Edge offline installer and save it on your PC or move it to a USB drive. The offline installer contains all the required files to install the browser on any PC. Therefore, you don't need to download the browser again and again.
How to get the Edge Browser Offline installers:
Even though there are both online and offline installers available to download, Microsoft has only listed the online installer download link on the Edge home page. The offline setup download links are listed on the business page for Edge.
But, you can download Edge browser offline installers 32-bit and 64-bit directly on this page using the download links shared just below the technical description table. Before downloading the application, you can read its technical description below:
Technical Details:

| | |
| --- | --- |
| Name | Edge for Windows |
| Developer | www.microsoft.com/en-us/edge |
| Website | Microsoft |
| Version | 119.0 |
| License | Freeware |
| OS Support | Windows 11, 10, 8, 7 (32/64-bit) |
| Installer Type | Standalone Installer |
| Category | Web Browser |
| Rating | |
| Updated on |  24 November 2023 |
Microsoft Edge Download for Windows PCs:
DOWNLOAD 32-bit for Windows 11, 10, Size: 155 MB
Or
DOWNLOAD 64-bit for Windows 11, 10, Size: 172 MB
Or
Download Edge for Windows 7 PC (32/64-bit):
Should we use Edge Browser:
As we have already mentioned, Edge is a Chromium-based browser developed by Microsoft and it is quite new in the market compared to the other popular web browsers. The only reason that Edge is making some buzz in the markets is Microsoft, the developer of Edge. Otherwise, it would have been lying in the corner and nobody would have even known about it like several other browsers. If you are using Google Chrome or Mozilla Firefox (Chromium-based browsers), there is no reason to use another browser like Edge. Even though it uses Chromium source code, Edge seems slower than Google Chrome.
The best alternative to Edge
Also, it is bulky. Edge's installer size is twice that of the Google Chrome installer. Page load and download speed are also slow compared to Chrome. It even takes several seconds to open a file from local storage. Bing is Edge's default search engine, and most of its features are copied from the Google search engine. And the worst part is that you can not easily replace Bing with another search engine.
New Features in Edge 119.0 for Windows:
Here are the new features added to the latest release of Microsoft Edge:
Compression Dictionary Transport support: A version of the Compression Dictionary Transport feature is available for sites to use by participating in the associated origin trial.
Behavioral changes to the before unload event: The behavior of the beforeunload event has changed such that calling preventDefault in a beforeunload event handler triggers a confirmation dialog. Setting returnValue to an empty string in a beforeunload event handler no longer triggers a confirmation dialog. This behavior takes effect starting in Microsoft Edge version 119.
Split screen restore improvements: Split screen allows you to simultaneously work on multiple tasks across two, side-by-side screens in one browsing tab to boost your productivity and multitask more efficiently. Now after the browser is restarted and the previous session is restored, the split tab will also be restored.
Additional capability to manage sidebar apps: Administrators can utilize the "sidebar_auto_open_blocked" ExtensionSettings policy field to control the auto-open behavior of sidebar apps. For more information, see Detailed guide to the ExtensionSettings policy.
Edge Browser for other platforms:
If you want to download the Microsoft Edge browser for other platforms or the Edge older version, then you can read the below paragraphs to learn how to download Edge for other platforms.
Click the below download button to go to the new Edge browser download page. It will take you to the Microsoft Official download page for the latest Edge browser. On that page, first, select the version of the browser from the drop-down menu (the number on the top is the latest stable version). Then select the platform (whether you need the 32-bit or 64-bit) and then click download. After that click the "Accept and Download" to accept the MICROSOFT SOFTWARE LICENSE TERMS and download the browser.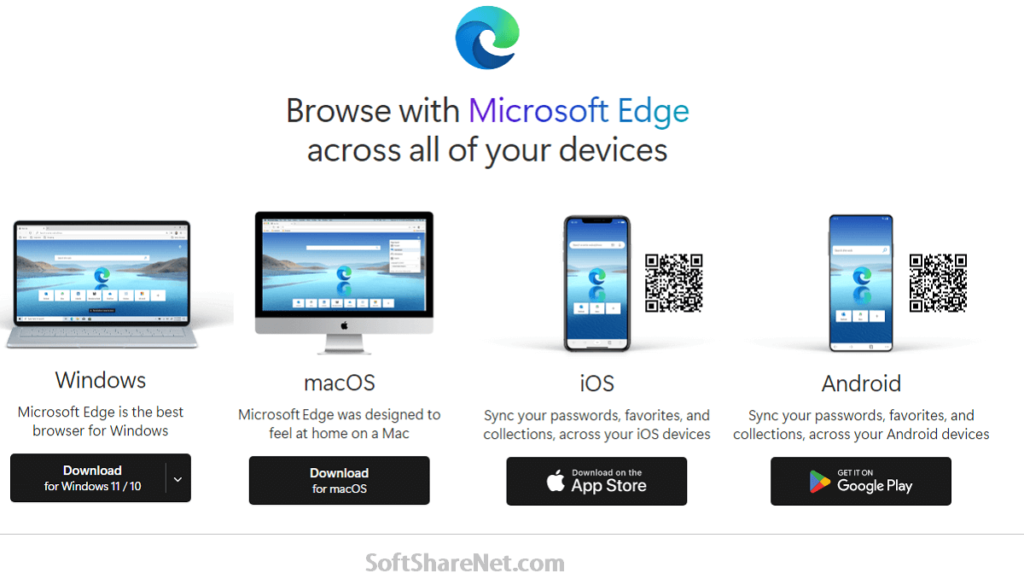 How to install Microsoft Edge on Windows:
Installing the latest Microsoft Edge browser is very easy. First, download the required version of the Microsoft Edge offline installer using the link below. Then find the Microsoft Edge installer file in the download folder. Then double-click on it. Now click yes in the nest popup window to allow the program to install this software on your computer. Now, wait a minute to complete the installation process. Done, your new browser is now ready. Download Microsoft Edge today for free.
Other Web Browsers