Ultimate Dictionary is one of the best free offline dictionary apps available for Windows computers. It is a set of dictionaries held together in one application for Windows PC. This free dictionary app contains several dictionaries that allow you to look up definitions, synonyms, and translations of words from different languages. It is an open-source multi-language dictionary software that supports Windows 10, 8, 7, and Windows XP. Here, we are sharing the link to get the Ultimate Dictionary installer for Windows PC. Download Ultimate Dictionary for Windows PC for free.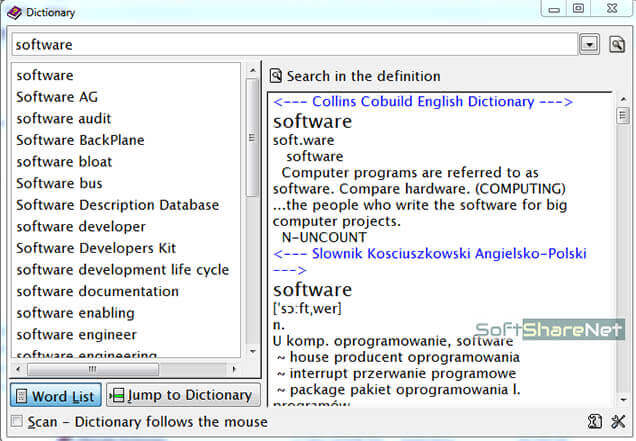 The Ultimate Dictionary is a complete set of dictionaries, thesauruses, and glossaries for English, Spanish, French, and Polish words. It was developed as an open-source project and is therefore completely free for use. This is an easy-to-use dictionary application and it has a simple, uncluttered, and friendly interface. It is a complete and all-in-one dictionary for Windows PC that allows you to look up words in many sources instantly.
This dictionary app is easy to use as it has a clean and friendly interface. Even a novice computer user can use it easily. As this program is a combination of multiple dictionaries, it allows you to look up and compare words quickly to make sure the definition is correct. Multiple language support is another notable feature of the Ultimate Dictionary. It allows you o look up words in several other languages. If you want another simple but best modern English dictionary for PC, then you can download WordWeb for PC for free.
Features of Ul

timate Dictionary:
It supports multiple dictionaries.

You can jump from one information source to another quickly (translations, encyclopedia entries, glossaries).

It allows comparing explanations between dictionaries with ease.

It is an offline dictionary, hence you don't need an internet connection to use it.

Easy to install and use, user-friendly interface.

Users can manage dictionaries with ease: the management tool allows you to add, delete or reorder dictionaries.
It has a friendly interface and it is easy to use. Whenever you type a word in its search box to look up the meaning in the dictionary, it searches all the available dictionaries (the dictionaries it contains) and displays the definition from every dictionary.  Ultimate Dictionary is available for almost all Windows versions. The size of the installer is quite large (158 MB) compared to other offline dictionaries as it contains 33 different dictionaries.
About Ultimate Dictionary:
Download Ultimate Dictionary:
(Direct download link, 100% safe and secure)
Or
Download from sourceforge.net
Related post: Free download Best English Dictionary Apps for Windows 
Related Software