PDF is a common and popular format to publish and share documents like forms, manuals, eBooks, drawings, statements, etc. PDF files are secure as they are not easily editable but easy to transmit through email, WhatsApp, and other mediums and it is easily readable on any platform. PDF formats are can be read or viewed on any computer, Notepad, or Smartphone using a PDF reader or PDF viewer application. Here are the 6 best PDF readers and editors for Windows PC.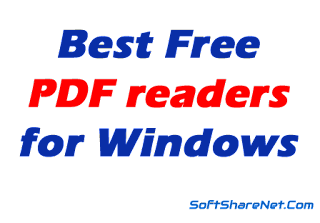 Best Free PDF Readers and Editors for PC:
If you are searching for free PDF reader software, then your search may end here as we have brought the six best free PDF Readers for Windows PC. The PDF or the Portable Document Format becomes one of the common and popular file types. Also, a PDF reader or PDF viewer software has also become one of the must-have software for our computers. A PDF reader helps us to read, view, or print a PDF file. Some PDF viewer is also capable of modifying and editing PDF files.
If you want to download a powerful PDF reader and editor for your Windows PC, then you can get one here as we are writing about the 5 best free and lightweight PDF reading software. You can download the new version of these most popular PDF readers and editors for Windows 10, 7, Windows XP, Mac OS, etc. These free PDF viewer applications are lightweight and powerful to handle any PDF files and also, and some applications can convert other documents to PDF format.
There are various types of popular PDF reader applications are available. Each application has its own characteristics. Some PDF readers only can read and print PDF documents and some are capable of both reading, printing, and edit, converting, etc. In this post, we are going to write about the 5 best free PDF applications for Windows and Mac OS and you can download these applications here too. 
Slim PDF:
The Slim PDF (version 1.0) calls itself the smallest PDF reader in the world for PC. It is developed by Investintech PDF Solutions. This small PDF reader is a very simple reader having the basic features of a PDF reader. Besides reading PDF files, Slim PDF is capable of printing PDF files, rotating, zooming, searching PDF files, going to a specific page, skipping to the last sheet or first sheet, adjusting zoom values, etc.
Although Slim PDF does not have all the much-required features, one of the main advantages of Slim PDF is the size of the program. It is a tiny application and it requires very little system resource and does not affect the other program of the computer. The size of the Slim PDF installer is only 1.43 MB and the size after installation is also less than 5 MB.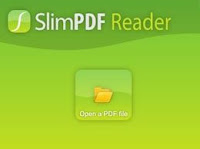 Slim PDF supports almost all Windows OS from the version Windows XP to Windows 10 32-bit and 64-bit. In 2020, Investintech PDF Solutions has released version 2.0 of Slim PDF after adding many new and essential features. Version 2.0 is quite larger than the previous version and also includes several pro futures.
Software Technical Details: 
Cool PDF Reader: Smallest PDF Reader and converter:
Just like Sumatra PDF, the Cool PDF Reader is another lightweight PDF viewing software for Windows PC. Along with all the primary features required to handle a PDF file, Cool PDF also includes a conversion feature that lets you convert PDF files to images and text files. It is a great advantage of Cool PDF Reader over Sumatra PDF. It is published by pdf2exe.com.
14 Must-Have Essential Software for Windows PC
Sumatra PDF

:
Sumatra PDF is another simple but popular PDF reader software that runs on almost all Windows Operating systems. Sumatra PDF is an open-source PDF reader and it is also can be used to read ePub, MOBI, CHM, XPS, DjVu, CBZ, CBR file formats on Windows. Like Slim PDF, it is also a very small application to read PDFs. The size of its installer is under five MB. It also has the basic but essential features required to handle a PDF file. It can view PDFs, print, search, rotate, zoom in, zoom out, go to the first page, go to the last page, flip a page in book mode, enter full-screen mode, presentation mode, etc. It has a simple set of keyboard shortcuts to complete your work quickly.
The advantages of using this PDF reader are:
Sumatra PDF is very fast and can open any PDF file very quickly.

It consumes only a small amount of computer memory (RAM) and computer system resource.

It has a very simple and easily understandable user interface.

Sumatra PDF also provides a portable version, which can be run from a USB drive.

It supports many other formats like ePUB, XPS, CHM, CBR, CBZ, etc.
Software Technical Details:
Product Name: SumatraPDF

Developer: Krzysztof Kowalczyk

Category: PDF reader

Supported OS: Windows 10, Windows 8, Windows 7, Vista, XP.

Installer Type: Standalone Offline Installer/Portable

Size: less than 5 MB.
Download Sumatra PDF for Windows:
Download Sumatra PDF 64-bit
Download Sumata PDF 32-bit
Or
Download Portable Version
Adobe Acrobat Reader DC:

 
There is no need to re-introduce this favorite PDF reader to anyone as the Adobe Acrobat Reader DC or simple Adobe Reader is one of the most popular PDF reading software developed by Adobe Systems. It is one of the oldest PDF reader software widely used across the world due to its reliability and powerful features. This popular application is capable to read and handle all types of PDF files and contents including forms and multimedia.
Adobe Acrobat Reader DC is a free and also very trusted software available for Windows, Mac OS, mobile platforms, etc. It provides PDF reading, printing, sharing, signing, annotating PDFs, and many other global standard facilities. It is one of the best free PDF readers that really offer high-quality features and PDF reading experiences. The size of Adobe Acrobat Reader DC is much bigger compared to other similar PDF reading applications. Also, it requires more computer memory and resources to run this application. Although it has many high-end features, they are unnecessary for you if you need an application only to read and print PDF files.
Download Adobe Acrobat Reader DC for Windows: 

Software technical details:
Developer: Adobe Systems
Supported OS: Windows

XP, 

10, Windows 8, Windows 7/Mac/Android

Version: Latest Released
Download Adobe Acrobat Reader DC here:
Best Free Offline Dictionary app for Windows]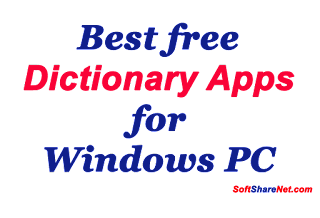 ---
PDF-XChange Editor:
PDF-XChange Editor is another free PDF reader application for Windows OS. You can do much more with PDF-XChange Editor such as view and read and print PDF, add notes and comments, highlight or strikethrough text, add signatures to PDF, Copy, Cut, Delete, or Zoom to selected content, and take a snapshot of the document, counting words on a document, edit the document and many other very useful features. In addition, the most important feature of PDF-Exchange is optical character recognition. This feature allows you to scan an image of a printed text file and convert the characters of the image into a searchable and selectable document.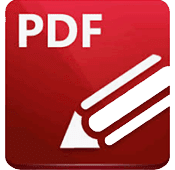 PDF-XChange Editor offers both free and premium editions. You will get all these features mentioned above in the free version. 
Software Technical Details: 
Download for Windows 32-bit and 64-bit
Foxit Reader (Best free pdf reader):
This is a versatile PDF managing application that allows you to handle your PDf files almost all the way. Foxit Reader is a free but powerful PDF reader and PDF converter software developed by Foxit Software. Foxit Reader is widely popular due to its essential features like reading, printing PDFs,  Encrypt and signing PDFs, annotating, sharing, and collaborating, creating bookmarks, splitting or joining PDFs, multi-tab browsing, converting PDF files, etc. 

Foxit reader is capable of checking spelling during editing. Additionally, with the help of an add-on called FZIP, it can make scanned text files readable. Another important and very essential feature of Foxit Reader is converting different file formats into PDF format. It can create standard-compliant PDFs that are compatible with other PDF products. Also, it integrates with Microsoft Word, PowerPoint, and Excel to allow you to convert any document, excel sheet, or PowerPoint presentation.
Foxit Software has an online library of Foxit Add-ons. The user can install these add-ons to extend the functionality of the Foxit Reader. Foxit Reader is developed by Foxit Software and it is available for different operating systems such as Windows, Mac, Android, etc. 
Software Technical Details:
Product Name: Foxit Reader
Developer: Foxit Software

Category: PDF Reader

Supported OS: Windows 11, 10, 7, XP

Installer type: Full Version Offline Installer

Version: Latest Version
Download (For Windows)
Download (For Mac OS)
Or Download Foxit Reader for Windows XP

Disclaimer: All trademarks, product names, logos, and brands mentioned above are the property of their respective owners. We are only sharing the links that are available on the internet to download the software.
There are several free and paid PDF readers available for Windows PC. In this post above, we have listed 5 free PDF reading applications for PC, which are already used by millions of users across the world, and these are widely popular due to their user-friendly features. Download these best free PDF reader software new versions for Windows 11, 10, 7, and Mac OS, and enjoy a hustle-free PDF reading experience. You can download any program listed above from their official website using the links shared on our site. 
Related Topics