WordWeb dictionary for Windows is a free offline English dictionary and thesaurus for Windows computers to look up English words. It is available to download for Windows, Mac, and Android operating systems This free offline dictionary software currently has more than 230000 root words and over 160000 synonyms. It is a very useful free offline English dictionary application. Word Web can be installed on Windows 11, 10, 8, and Windows 7 computers. Download WordWeb and install the best offline dictionary software for PC.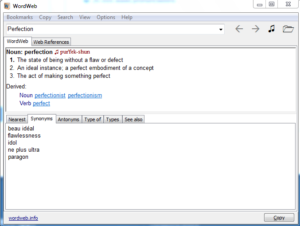 WordWeb dictionary software is very user-friendly and easy to use. It is a one-click English dictionary and thesaurus software for Windows. Once you installed the dictionary app, just right-click on a word after holding down the control key on the keyboard and the result will be displayed instantly. It can look up any word almost in any program. Word Web free gives you the freedom to find definitions, synonyms, and antonyms of any given word without having an active internet connection. It doesn't require you to go online to search for the definition or synonyms of any words. It also provides pronunciation and usage examples for over 70000 words.
Although it is paid software, however, you can use the free version without too many restrictions for an unlimited time. 
Related program: Grammarly for Windows 
The program has a full dictionary and thesaurus for American, British, Canadian, Australian, Indian, and global English. The WordWeb free version is fully functional. If you need some additional features, then you can buy the Pro version of the software to add full audio and many additional features, including the option to add Oxford, Chambers, and Collins dictionaries. The free WordWeb download link is listed below.
Key features of WordWeb free:
One-click lookup in almost any Windows program
Hundreds of thousands of definitions and synonyms
The latest international English words
Works offline, or reference to Wikipedia and web references
Technical Description of the Software
Name
Word Web English Dictionary
Developer
WordWeb Software
Website
wordweb.info/free/
Version
10.23
License
Freeware

Operating System

Windows 11, 10, 8, 7 (32/64-bit)
Size
23 MB
Category
Offline Dictionary
Language
English
User Rating
Updated on
24 January 2023
Download WordWeb for Windows 11, 10, 7 PC:
Download Wordweb for Other OS:
Download Mac OS
Download for Android
It is a simple and easy-to-use dictionary software for Windows PC. It lets you search for the definition of any word in just one click without typing the word. The best part of this free dictionary software is that you can find the meaning of any word from any program. Just press the control key and right-click on the word you want to find the definition of. The dictionary will open instantly with useful results like definitions of the word with examples, synonyms, antonyms, related words, nearest words, types of words, etc. It can also play the pronunciation of the word. Free download WordWeb for Windows PC using the links listed above.
Related Software