The Xobdo Assamese Dictionary (শব্দ অসমীয়া অভিধান) software for PC is a popular free offline dictionary app that allows you to find definitions, synonyms, and related words of thousands of Assamese and English Words. It is an offline dictionary software that is very useful for Assamese users and also for those who want to learn Assamese.
'XOBDO' (means "sound" or "word" in Assamese) is a non-profit organization formed by a group of volunteers located in various parts of the globe with the common interest of promoting the languages of North-East India in the cyber world. Members of Xobdo are voluntarily collaborating to construct and maintain this website. In March 2006 the Xobdo team began working on the online English and Assamese bidirectional dictionary. Currently, Xobdo has a number of North-Eastern languages included in its dictionary.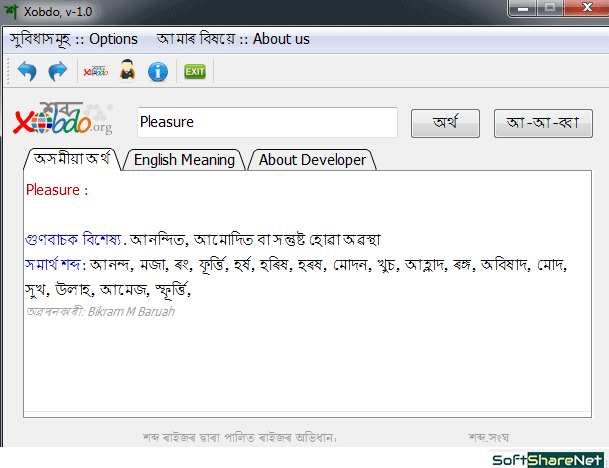 You can download the offline version of Xobdo Dictionary and install it on your Windows computer. The Xobdo offline version doesn't need an internet connection to show or find definitions of Words. This Xobdo offline dictionary app supports Windows 10, 8, and 7 (both 32 and 64-bit) PC. You can also install it on Windows XP. Download Xobdo dictionary from its official website through the links shared below.
Xobdo is a bilingual dictionary and thesaurus software for PC, which is the offline version of xobdo.org, a multilingual online dictionary. The offline version of the dictionary app allows you to find definitions and synonyms of thousands of Assamese and English Words. It allows you to find both the Assamese and English meanings of an Assamese or English word. This Assamese dictionary includes hundreds of Assamese as well as English words, their meaning, synonyms, etc in its database.
Xobdo is the first-ever Assamese dictionary software for computers. You can download and use this Anglo Assamese dictionary app on Windows PC for free. It is an offline dictionary app that doesn't require an active internet connection to find the meaning of a word after download and installation.
Xobdo dictionary is very useful for people who speak the Assamese language or if anyone trying to learn the Assamese language. Assamese is a regional language in India and the word "Xobdo" means "Sound" or "Word" in the Assamese language. You can install and use Xobdo dictionary software on Windows 10, 8, and 7 computers.
This dictionary software is very simple and easy to use. You can write and search both English and Assamese in this application. But, if you want to write an Assamese Word in the search box of the app, then you need to download an Assamese Unicode keyboard like Avro or any other available Assamese Unicode writing tools as there is no inbuilt Assamese keyboard in this dictionary app.
Actually, the Xobdo Assamese Dictionary is the offline version of the popular online Assamese dictionary Xobdo.org, which was launched on March 10, 2006. Since this dictionary program has not been updated for several years, it may unable to provide up-to-date information. If you want to read more about the Assamese dictionary app Xobdo in Assamese, you can read it in Assamese on this website.

Key features of Xobdo offline dictionary:
Simple and easy-to-use user interface.

You can search in both English and Assamese

Xobdo offline dictionary allows you to go to the previous or last result.

It allows you to find the definitions by clicking on the synonym.
Technical Description of the Software
Name
Xobdo Assamese Dictionary
Developer
xobdo.org
Website
www.xobdo.org
Version
1.0
License
Freeware

Operating System

Windows 10, 7 (32/64-bit)
Size
40.05 MB
Category

Dictionary Software

Language
Assamese & English
User Rating
Updated on
04 October 2022
Download Xobdo Assamese Dictionary for Windows 10, 8, 7:
Xobdo Assamese Dictionary download for PC  (কম্পিউটাৰৰ বাবে অসমীয়া অভিধান 'শব্দ') free now using the above download button from its official website. It is the direct download link for this popular Assamese dictionary software. After downloading, double-click on the xobdo_setup_20120817.exe to install this best Assamese Dictionary on your PC and follow the installation steps to complete the setup.
Other Dictionary app for PC