Audacity for Windows is a comprehensive free audio editor for Windows PC. It is a sophisticated and easy-to-use free audio clip editor app that allows you to edit and record audio files as a professional app does. Audacity lets you record any sound you play on your computer, even any online media. After recording, you can edit the recorded audio using cut, copy, and paste features (with unlimited undo functionality), mix tracks, or apply different audio effects to your recordings.
Users can use this multi-tasking, features-rich audio editor as a free alternative to other professional audio editing applications. You can install Audacity on all Windows PC Windows 11, 10, 8, 7, and XP computers. As it is an open-source and cross-platform application, that is also available for other popular operating systems like Mac OS X, Linux, etc. Download Audacity for Windows 32-bit and 64-bit PC here.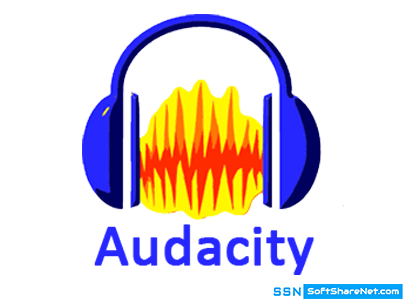 Audacity lets you export or save the edited audio to different audio formats. It can import and export WAV, AIFF, MP3, and OGG files. Audacity can be used for post-processing of all types of audio, including podcasts by adding effects such as normalization, trimming, fading in and out, etc. It also lets you use features like customizable spectrogram mode, frequency analysis, amplitude envelope editor, bass boost, VST plug-in effects, noise removal, and several others. Its functionality can be enhanced by connecting various external plug-ins too.
Audacity has several advanced features like the built-in amplitude envelope editor, a frequency analysis window for audio analysis applications, a customizable spectrogram mode, and in-built effects including Bass Boost, Wahwah, and Noise Removal, and it also supports VST plug-in effects. You can also install several other useful plugins to extend its functionality.
Features:
Multitrack Editing
It can record live audio (from a microphone or mixer)
Also, it records computer playback on any Windows Vista or later machine.
Edit WAV, AIFF, FLAC, MP2, MP3 or Ogg Vorbis sound files.
Import/export of WAV, AIFF, AU, FLAC, MP3 (via LAME encoder) Ogg Vorbis files.
Convert tapes and records into digital recordings or CDs
AC3, M4A/M4R (AAC), WMA, and other formats supported using optional libraries
It has several built-in advanced editing features like Cut, copy, splice, or mix sounds, delete commands with unlimited "Undo" and "Redo," multitrack mixing, etc.
Several digital effects such as changing the pitch, removing background noises, altering frequencies, removing vocals, creating voice-overs for podcasts, etc.
Technical Details:
Download Audacity for Windows 11, 10, 7 PC:
Download for Windows 32-bit PC, Size: 13.3 MB
Download for Windows 64-bit PC, Size: 34 MB
Or Download it for Mac OS
Audacity is free software, developed by a group of volunteers and distributed under the GNU General Public License (GPL). It is a free, easy-to-use, multi-track audio editor and recorder available for Windows, Mac OS X, GNU/Linux, and other operating systems. Its Windows 32-bit and 64-bit installers are both available separately.
Get it for Windows using the link above. These links will let you download the official installer file and is 100% safe and secure. Audacity download for Windows PC from here- the best free audio editing software for PC and enjoy the wonderful audio editing features for free.
Related Software