The Shotcut free video editor for Windows 64-bit PC is a free application that could definitely be a solution for you if you are looking for free video editing software for your Windows PC. Download Shotcut 64-bit for Windows PC. It is an open-source and free cross-platform video editing software that's available for Windows, Linux, and Mac operating systems. Shotcut is one of the best lightweight video editing and movie-making software for Windows that allows you to perform various editing tasks such as video editing, adding effects to video, making movies, creating slide shows by importing most image file formats, and much more.
You can download Shotcut video editor for Windows 11, 10, 8, and Windows 7 (64-bit) free here. Get Shotcut 64-bit Offline Installer for Windows now using the link listed on this page.
About Shotcut 64-bit Video Editor:
Download Shortcut for Windows is a great application for making movies or editing videos. It is a simple but comprehensive and effective video editor that has a smooth interface and a variety of tools and features that a video editing app should have. Major features such as support for most types of video formats including 4K video quality, no import required meaning native timeline editing; Blackmagic Design support for input and preview monitoring, etc.
With a wide range of essential features, Shotcut lets you edit your videos very easily. It supports a variety of audio and video codecs, several image formats, frame-accurate, multi-format editing timelines, import via drag and drop, webcam capture, audio capture, volume control, network stream playback, encode/transcode to many formats and codecs, batch encoding, and many more.
Related Software:
Shotcut 32-bit and 64-bit: Which one do you need:
There are both 32-bit and 64-bit versions of Shotcut available differently. The 64-bit version installer is for 64-bit Windows and another is for 32-bit Windows systems. But, in 2020 the developers discontinued the 32-bit version of this software. After September 2020, there are no new updates for Shotcut 32-bit version. The latest version of Shotcut is now only available for Windows 64-bit PC. If you have a 32-bit Windows computer system, then you need to download version 20.09.27 as it is the last version of this free video editor for Windows PC.
Features of Shotcut:
Video Editing Features:
Shotcut allows the user to trim on source clip player or timeline with a ripple option.

It has an easy-to-use cut, copy, and paste operations.

It lets you append, insert a clip, overwrite, lift, and ripple delete editing on the timeline.

You can hide, mute, and lock track controls.

Multitrack timeline with thumbnails and waveforms.

Shotcut video editor allows unlimited undo and redo for playlist edits including a history view.

Webcam capture.

Audio capture.

Support for 4K resolutions.

Create, play, edit, save, load, encode, and stream MLT XML projects (with auto-save).

Save and load the trimmed clip as MLT XML file.

Load and play complex MLT XML files as a clip.

Drag-n-drop files from the file manager.

Scrubbing and transport control.

Keyframes for filter parameters.

Detach or unlink audio from the video clip.

Presets for most filters and Export – both supplied and user-created.

It lets you sort the playlist by name or creation/recording date.

Multi-select items in the playlist and timeline
Wide Range of Video Format Support:
Shotcut supports hundreds of audio and video formats and codecs. No import is required which means native editing, plus multi-format timelines, resolutions, and frame rates within a project. Frame-accurate seeking is supported for many video formats.
It supports the latest audio and video formats.

Supports popular image formats such as BMP, GIF, JPEG, PNG, SVG, TGA, TIFF, and WebP as well as image sequences

No import required – native timeline editing

Frame-accurate seeking for many formats

Different types of video filters

Multi-format timeline: mix and match resolutions and frame rates within a project

Webcam capture

Audio capture

Support for 4K resolutions

Frei0r video generator plugins (e.g. color bars and plasma)

Color, text, noise, and counter generators

Export a single frame as an image or video as an image sequence

Videos files with alpha channel – both reading and writing
Audio Features of Shotcut:
Audio scopes: loudness, peak meter, waveform, spectrum analyzer

Volume control

Audio filters: Balance, Bass & Treble, Band Pass, Compressor, Copy Channel, Delay, Downmix, Expander, Gain, High Pass, Limiter, Low Pass, Noise Gate, Normalize: One Pass and Normalize: Two Pass, Notch, Pan, Reverb, Swap Channels.

Audio mixing across all tracks

Fade in and out the audio and fade video from and to black with easy-to-use fader controls on the timeline

Cross-fade audio and video dissolve transitions easily by overlapping shots on the same track of the timeline

JACK transport sync

Tone generator

Stereo, mono, and 5.1 surround
Device and Transport Options:
Blackmagic Design SDI and HDMI for input and preview monitoring. Screen, webcam, and audio capture. Network stream playback. Supports resolutions up to 4k and captures from SDI, HDMI, webcam, JACK & Pulse audio, IP stream, X11 screen, and Windows DirectShow devices.
Shotcut video editor has multiple dockable and undockable panels, including detailed media properties, recent files with search, playlist with thumbnail view, filter panel, history view, encoding panel, jobs queue, and melted server and playlist. It also supports the drag-and-drop of assets from the file manager.
Simple User Interface:
It has a simple and friendly interface and a clutter-free dashboard, where everything is placed in a way that you can find every feature easily.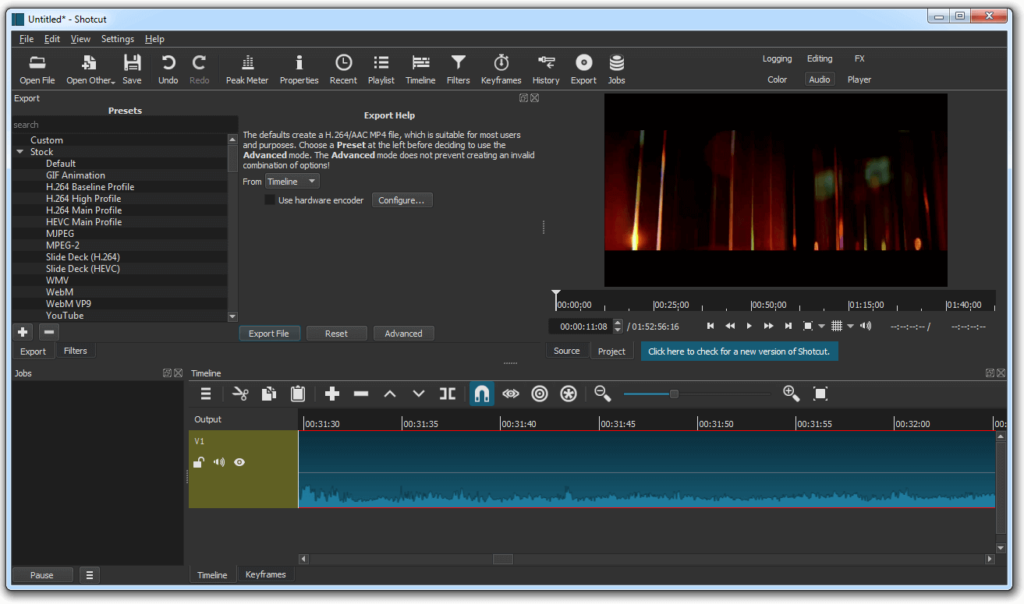 Technical Details:
Developer: Meltytech, LLC.

Website: shotcut.org
Category: Multimedia/Video Editor
Version: 22.12.21

Installer Type: Standalone offline installer

OS Support: Windows 10,8, and 7- 64-bit only

Rate This:
Updated on: 13 April 2023
Size: 99.3 MB
Download Shotcut 64-bit for Windows PC:
The latest releases of ShotCut are only available for Windows 64-bit systems. Get it now using the below link:
Download for Windows 64-bit:
Or
Download for Shotcut 32-bit:
If you need the 32-bit version of this app, you can download an older version. The last released 32-bit version is 20.09. Get it below:
Or
You can download Shotcut for Mac OS here.
Related Software