File compression software is a very useful application for our Windows PC. It helps us create compressed archive files, which are also known as zipped files. An archive file is useful for putting different kinds of files like documents, audio, videos, executable files, archives, folders, etc. in a single file.  Archives are secure and easy to store or transfer over the internet. To manage these compressed archives or zipped files, we use File Archiver or file compression software.
A file archiver can create archives, compress archives, encrypt zipped files, open different types of archives, etc. In this blog, we have discussed some very powerful and some of the best file compression software or file archivers for Windows computers. Most of these programs are free and in this post, we have also shared their latest version download links.
A file archiver collects one or more files and/or folders and then compresses those files/folders in a single file, which is called an archive format. The archive formats are very helpful during sending several files through email as you can put all the files and folders in an archive and attach the archive with the email easily. Every file archiver can produce different archive formats. There are several archive formats available out there. Some popular archive formats are ZIP, RAR, JAR, 7Z, ISO, ARC, ARJ, CAB, TAR, GZ, LMZA, XZ, TGZ, TLZ, etc.
Best File Compression Software for Windows PC:
There are several free and paid file archiving applications available for download and use on your Windows PC. But not every app is going to help you manage your archives. Every program has its own characteristics and features and also has some drawbacks. If some apps have a high compression ratio, then others have faster compression speed, if a file archiver has a complicated user interface, then another doesn't support all popular archive formats.
But, there are also some popular file archiving applications available that have a comprehensive list of useful features and also provide a simple and easy-to-use interface. Therefore, we have selected some best file compression software for your Windows PC which are very powerful and let you handle your archives easily. 
The 4 best free file archivers for Windows PC:
7-Zip: Free, Simple, and Powerful.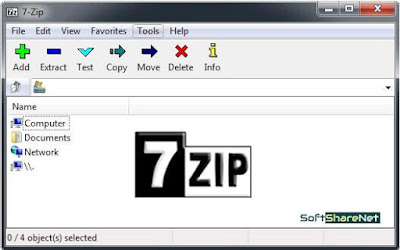 7-Zip is an open-source and very powerful file archiver application, which gives you the freedom to create highly compressed archives at any time. It is one of the best file compression software that is completely free and you can use it for both personal and commercial purposes without paying anything. 7-Zip is one of the best free applications used to create an archive file or unpack an archive file easily.
7-Zip uses the LMZA compression method by default and 7z is the default archive format produced by the 7-Zip app. It provides a very high compression ratio. In some cases, it can compress files up to 98 percent or more compared to the original size of those files. 
In terms of security, 7-Zip provides Advanced Encryption Standard (AES) 256-bit encryption. AES-256 is a very strong security technique used to encrypt user data. 7-Zip allows the user to keep his files safe by creating a password for the archive.
[14 Must-Have, Important Software for Windows PC]
The 7-Zip application is available for all Windows versions like Windows XP, Vista, 7, 8,  and Windows 10. It also supports Linux OS via the command line. It is a very lightweight but powerful program that has a simple and user-friendly interface. You can download the 7-Zip latest version for the Windows operating systems using the below download link.
WinRAR: Simple, Feature-packed, and Most popular.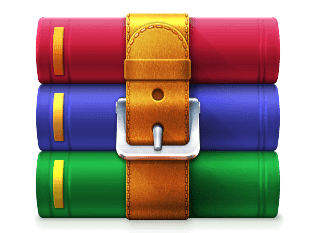 WinRAR is a simple-looking but powerful file archiver and file compression software that has many integrated additional functions that help the user manage their compressed archives. 
WinRAR is one of the best file compression software or file archiver apps developed by RARLAB, which is available for different operating systems like all Windows 32-bit and 64-bit platforms, Mac OS, Linux, Android, etc. 
WinRAR has a user-friendly interface, which makes it easier to use compared to many other file archivers and even a new user can use the basic functions easily. It is a lightweight application that requires only a few system resources and it is often faster than its competitors. The compression ratio of WinRAR is very high. It is capable of creating a highly compressed RAR archive by compressing the original files and folders. 
WinRAR can be used to secure your file as it is able to encrypt your archive using AES (Advanced Encryption Standard) with a key of 128 bits. WinRAR is also capable of repairing damaged archives. 
WinRAR is capable of creating archives in RAR and ZIP format and it can unpack or decompress several archive formats like RAR, ZIP, 7Z, CAB, ISO, TAR, JAR, ARJ, LZH, GZ, ACE, UUE, and several others.
Is WinRAR Free:
WinRAR is a premium software that offers a forty-day free trial period. You can use this trial version without any restrictions for the first forty days and then you have to register it with a valid serial number. However, you can use WinRAR even after the end of the trial period. But every time you open the unregistered version, it will show a pop-up window asking you to register the application.
PeaZip: Versatile, Cross-platform, open-source, and more: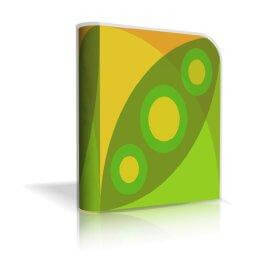 PeaZip is another cross-platform open-source zip software and can be considered as one of the best file compression software that is available in the market. This file archiver application available for Windows and Linux and it is also can be used as a file manager app. It is one of the best alternatives to WinRAR and other related programs.
PeaZip is capable of handling all the most popular archive formats and also supports a wide array of advanced file and archive management features, such as searching, bookmarking, thumbnail viewer, finding duplicate files, secure deletion, calculation of hash, and checksum values, archiving files e.t.c.
PeaZip can create several archive formats including 7Z, ARC, BZ2, GZ, PEA, sfx, TAR, WIM, XZ, ZIP, etc and it can extract over 180 types of archives, including ACE, ISO, RAR, etc files.
Security is another important feature of PeaZip software. PeaZip provides enhanced security features to protect your archives. It is able to create encrypted file archives using two-factor authentication. It requires both a password and a randomly generated key file to unlock the encrypted archive, which makes it more difficult to crake using brute force or dictionary-based attacks. PeaZip also offers a powerful and complete file manager for viewing, browsing, and searching archive files.
The link to download PeaZip for Windows 32-bit, 64-bit, and Linux OS is below:
Zipware: Simple, fast, and free:


Zipware is a free file compression software or archiver available for the Windows operating system. It is a very simple and straightforward zip software that supports all major archive formats including the new RAR5 format. ZipWare is designed to be simple, fast, and stable to manage all types of archives with millions of files.
Like 7-Zip or PeaZip, the Zipware is also free for personal and commercial use. It can create ZIP, 7-Zip, self-extracting archives and it is capable of extracting archive formats like  ZIP, ZIPX, 7Z, RAR, RAR5, ISO, VHD, GZIP, BZIP2, TAR, CPIO, XZ, DEB, DMG, RPM, and many more. It also supports some Linux archive formats like tar and gzips.
The Zipware app also allows the creation of password-protected encrypted archives using AES-256 encryption technology.
Zipware can be installed on all Windows 32-bit and 64-bit systems like Windows 10, Windows 8, Windows 7, Windows XP, Vista, Windows Server 2012, 2016, Windows Server 2008, 2003, Windows .NET 4.0, etc.
Those are some of the best file compression software for a Windows PC. All these programs are very simple and easy to use and most of them are completely free to use. You can also download their latest version using the links shared in this post.
Related Articles