The Opera browser is safe, secure, and also provides faster internet browsing. It has a very simple and user-friendly interface and also provides a very smooth web browsing experience. Opera is one of the most popular web browsers for Windows PC that also available for Windows XP computers. That means you can install the Opera browser on your old Windows XP PC. If you want to experience a faster web browsing on Windows XP computers, then you should definitely use the Opera 36.0 on Windows XP PC. Windows XP does not support the latest version of Opera. Therefore, you need to download the Opera browser XP version. Here, you can download Opera 36.0 offline installer for Windows XP computers.
As said above, you can not install Opera browser's latest version on a PC that runs on Windows XP or Vista. Therefore, you need to install the older version of the Opera browser that supports Windows XP. But if you install a much older version of Opera, then you will miss its latest features. Therefore, you have to find the final version of the Opera browser which compatible with Windows XP and  Vista OS. 
Even though Windows XP and Windows Vista have become outdated and outdated, many of us still prefer to use Windows XP and Vista. This is because some old application doesn't run on Windows 7 or Windows 10 but supports Windows XP. On the other hand, some old computers are compatible with Windows XP only. But Windows XP does not support newer versions of most software and Opera is one of them.
On SoftShareNet, we are sharing the links to get the Opera 36, the old version offline setup for the computer that runs Windows XP and Vista Operating Systems. This is the official download link to get the Opera browser for Windows XP and Vista operating systems. This installer is 100% safe and secure for your PC.
But, you don't have to waste your time finding the Opera browser that compatible with Windows XP PC, as we are sharing the links to download its most recent version for Windows XP and Vista operating systems. You can download the standalone installer setup of the Opera older version for Windows XP by clicking the download button listed below. You can also get the Opera browser latest version setup for Windows 10, 8, and 7 (32/64 bit) here. 
Opera is one of the oldest web browser built using Google's Chromium source code. It is safe, secure, and also provides faster internet browsing. It is a very simple and user-friendly browser that gives the user a very smooth web browsing experience.
Key Features of Opera Browser 36:
Powerful features: Itis a simple but powerful web browser. It comes with several inbuilt features and it doesn't require to install different plugins-ins and extensions to handle different tasks.
Simple Interface: The interface is very clean and simple so that the user can handle the browser easily. In this browser, navigating to different options is very easy. A new user can understand the interface of this browser easily.
Instant Search: It provides an instant search option to let the user search the internet instantly on a pop-up search box over the current tab (without opening a new tab) and the user can close the pop-up search box by clicking outside of it. This feature helps the user to search any content instantly without losing the content of the current tab and without open a new tab. 
[The best alternative to Opera]
Mozilla Firefox 52 for Windows XP
Built-in Free VPN: Opera browser provides a free inbuilt VPN service to make your web browser safer. This helps you surf the internet or browse any website anonymously. It is the first web browser that integrates a free and unlimited VPN service.
Private Mode: Opera private mode is a secure web browsing mode just like the "Incognito mode" provided in Google Chrome. It is a secure browsing window that helps users to protect their privacy. If you activate this private mode, the browser does not save any data like your browsing history, passwords, cache, and cookies, etc.
[More from Opera]
Download Opera GX Gaming Browser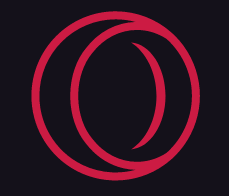 To activate "Private Mode" in the Opera desktop browser on Windows PC, click on the Menu bottom (The Opera icon at the top left corner of the browser), then select the "New Private Window" option from the drop-down menu. Or you can also press the CTRL + SHIFT + N keys together on your keyboard to activate the private mode.
Opera Extension: The Opera browser supports many external add-ons and extensions. It has an online ad-one library. You can download and install any browser extensions and themes on your Opera browser from this online library. Those extensions add several popular and useful functions to the Opera browser. You can view the Opera browser extensions and add any extensions to your browser here. You can also install Google Chrome Extensions on Opera Browser from the Chrome web store.
Built-in ad blocker: Opera web browser is integrated with a built-in ad blocker to block annoying ads on a website. It also helps to load the web page faster.
In the Opera web browser, you will also get some very important security features like inbuild Antispyware, Antiphishing, Pop-up Blocker, etc.
[The best browser for Windows XP]
Download Google Chrome 49 for Windows XP
Technical details of Opera 36:
Name: Opera web browser for Windows XP, Vista

Publisher: Opera Software
Category: Web browser

Installer Type: Standalone Offline Installer

Version: 36.0.2130.80

Size: 35.94 MB

OS Support: Windows XP, Vista

Language: English

Release Date: March 14, 2016
Download Opera 36 for Windows XP and Vista:
Or
Download Opera for Windows 10, 8, 7.
Download Opera Browser for Windows XP offline installer now using the links listed above. The download links shared above are fully official links to get the old version of the opera browser Opera 36 for Windows Vista and XP. 
Opera 36.0 Download Free for Windows XP, Vista