Paint.NET for PC is a feature-rich, easy-to-use free photo-editing application for Windows computers. It provides simple but effective features to edit and manipulate your photos very easily. Paint.Net is one of the best free alternatives to the Microsoft Paint program that comes preloaded with Windows OS. This simple but powerful image and photo editor tool also can be compared with other digital photo editing software programs like Adobe Photoshop, Corel Paint Shop Pro, GIMP, etc.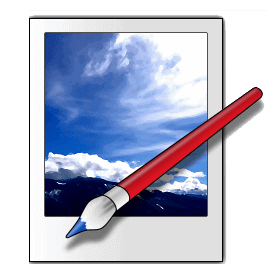 Although Paint.Net is a simple and lightweight app, it offers several essential tools and features to edit your photos, create logos easily. It has a very friendly, intuitive, and innovative user interface and a set of powerful tools to manipulate your images. Paint.Net support for layers, unlimited redo and undo, special effects, and a wide variety of useful photo editing tools. It also supports external plugins to extend its features and capabilities. Paint.net has an active and growing online community, where you can get friendly help and free tutorials to use the software.
Paint includes several useful editing tools for drawing shapes, including the curve tool for drawing splines curves, the Gradient tool, the Magic Wand for selecting regions of similar color, and the Clone Stamp for copying or erasing portions of an image like Adobe Photoshop CS6 and Photoshop 7.0. There is also a simple text editor, a tool for zooming, and a Recolor tool available.
The Paint.Net has some advanced photo editing features like clone stamp, pencil, text maker, paintbrush tool, layers, effects, etc. Paint.Net is not a substitute for any professional photo editing tools but you can use it as a basic photo editing app. This useful small application is developed by dotPDN LLC. You can download Paint.Net latest version from its official source using the below download link. If you are searching for the best free photo editing software, you can download the GIMP for Windows here.
Features of Paint.NET
Simple and innovative user interface:
The interface of the app is designed to be immediately intuitive and quickly learnable without assistance. It uses a tabbed document interface to handle multiple images easily. The tabs display a live thumbnail of the image instead of a text description for easy navigation.
Layers
Like expensive or complicated professional software, layers form the basis for a rich image composition experience. Supporting layers are one of the useful features of Paint.NET. Download Paint Net here for free.
Active Online Community forum:
It has a very active online forum with a friendly, passionate, and ever-expanding community to help you with advice and tutorials.
Automatically Updated
Paint NET releases new updates frequently which are free and contain new features, performance improvements, and bug fixes. And a user can install these updates using only two clicks of the mouse.
Special Effects
Many special effects are included for enhancing and perfecting your images. Everything from blurring, sharpening, red-eye removal, distortion, noise, and embossing are included.
Powerful Tools
The simple but powerful toolbar of Paint.NET includes simple tools for drawing shapes, including an easy-to-use curve tool for drawing splines or Bezier curves. The Gradient tool, Magic Wand for selecting regions of similar color, and the Clone Stamp for copying or erasing portions of an image. There is also a simple text editor, a tool for zooming, and a Recolor tool.
Unlimited History (undo and redo)
Every action a user performs on an image is recorded in the History window and may be undone. Once an action is undone, the user also can also redo it. The length of the history is only limited by available disk space.
Software Requirement by Paint.Net:
Operating System: Paint.NET can be run on Windows 11, Windows 10 (version 1607 "Anniversary Update" or newer), Windows 8.1, or Windows 7 SP1 with Platform Update for Windows 7.
Note: application required Microsoft .NET Framework 4.7.2, which is automatically installed if it is not already on your computer system. You can also download .NET Framework 4.7.2 directly here.
Technical Details of Paint.Net App:
Application Name: Paint.Net

Developer: dotPDN LLC.
Website: getpaint.net
Category: Image Editor

I

nstaller Type: Offline installer

OS Required: Windows 11, 10 (64-bit)

Languages: Multiple languages

License: Freeware

Version: 5.0.2 (Latest Version)
Rating:
Updated on: February 22, 2023
Download Paint.NET for Windows 11 and 10 PC:
Paint.Net 64-Bit, Size: 61 MB
Or
Download Paint.NET For Windows 7 and 8 (32/64-bit) PC:
Download Paint.NET old version for Windows 7/8 PC, Size: 800 KB
Download Paint.Net now for free. This program supports all major Windows systems like Windows 11, 7, etc. There are both Windows 32-bit and 64-bit installers of Paint.Net available to download and you can get the required version using the above links.
Related Software