7 Zip for Windows PC is an open-source free file archiver application that provides a very high file compression ratio. This free archive maker software is available for both personal and commercial use without any restrictions. That means you don't need to register this free file archiver and you can use it without a license key.
7Zip for Windows supports all Windows operating systems like Windows 11, 10, 8, Windows 7, etc. It even works on older versions of Windows  like Vista and including Windows XP and previous versions of Windows OS. Download 7 zip for Windows PC below. 7-Zip Download links are listed below.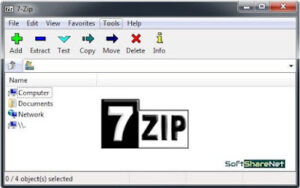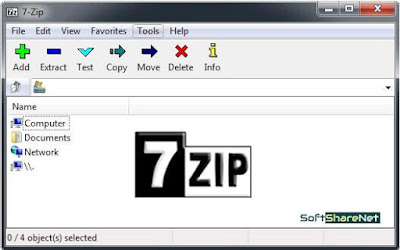 A file archiver is a piece of software that is used to compress and store multiple files and folders in an archive. It is also capable of opening or decompressing different archive formats.  There are several file archiver applications available and most applications are capable of compressing a bunch of large files to make them smaller. It saves disk memory and is easy to store. Archives are easier to transfer through email or through other mediums.
7-zip for Windows is one of the most popular file archivers that is capable of both creating and opening archives. It is a very lightweight application having a simple and friendly interface. It is a very powerful archive manager application and it even can compress 1000 MB files into just 10 MB or less. The default archive file created by 7-Zip is called 7Z. Besides 7Z, it can produce some other archive formats like BZIP2, GZIP, TAR, WIM, XZ, and ZIP. 
Formats Supported by 7-Zip:
7-Zip can decompress or unpack several other archive formats. These are 7Z, ARJ, BZ2, BZIP2, CAB, CHM, CHW, CPIO, CRAMFS, DEB, DMG, DOC, EXE, FAT, GZ, GZIP, HFS, HXS, ISO, LHA, LZH, LZMA, MBR, MSI, NTFS, PPT, QCOW2, RAR, RPM, SQUASHFS, SWM, TAR, TAZ, TBZ, TBZ2, TGZ, VDI, VDMK, VHD, WIM, XAR, XLS, XZ, Z01 & Z02, etc., Z, ZIP, and ZIPX. 
How to Compress Files Using 7-Zip?
7-Zip is a powerful file compressor that can create highly compressed archives. In some cases, it even can compress 1000 MB files to just 10 MB archive file. Here is a YouTube video explaining the steps to create highly compressed archive using 7-Zip.
7Zip Compression Ratio:
After some testing, it found that 7-Zip compresses to 7z format 30-70% better than to zip format and 7-Zip compresses to zip format 2-10% better than most of other zip compatible programs. Compression ratio results are very dependent upon the data used for the tests.
[Read: Best Free File Compression Software for Windows]
It can also produce a highly secure archive. It provides a strong encryption facility to protect archive files with a password. 7Zip uses a 256-bit Advanced Encryption Standard (AES) encryption system, which is one of the most secure and strongest data encryption technology. 
Application Details:
File Name: 7-Zip

Developer: Igor Pavlov

Website: 7-zip.org

Size: less than 2 MB

License: Open Source/Free

Category: File Archiver

Platform: Windows

Version: 23.01
Updated on: 02 July 2023
7 Zip Download for Windows 11, 10, 7, XP:
Download 7 Zip 32-bit (x86) for Windows:
Or
Download 7 Zip 64-bit (x64) for Windows:
Installing and Uninstalling 7-Zip on PC:
You can install the 7-Zip application very easily on your Windows PC. First of all, you need to download the installer file using the above links. Please download the required version according to the architecture of your PC (whether 32-bit or 64- bit CPU). After downloading, double-click on the installer file and click yes if needed. Then follow the instructions to complete the installation. The process will be completed with a few mouse clicks.
Uninstalling 7-Zip in Windows 10:
If you want to uninstall the program, in Windows 10, first, click the Start button, then select Settings and Apps. Under Apps, click on Apps & features. In the list of Apps, click on the 7-Zip application, and then select Uninstall.
Uninstalling 7-Zip in Windows 7:
You can easily remove 7-Zip from your Windows 7 PC by following the instructions provided by the 7 zip uninstaller. On Windows 7 PC, open the Control Panel and then click the Programs and Features option. Then select 7-Zip and choose Uninstall.
Other File Archivers for Windows PC