Copying and pasting files onto a computer is not too difficult. Though when it comes to dealing with large amounts of data or the possibility of Windows showing mysterious errors, programs like UltraCopier certainly come in handy. UltraCopier improves the process of copying or transferring files on a Windows PC. It replaces the default copying system on a Windows PC with an advanced copy-paste system that offers some essential features, including the batch copy-paste feature and makes the copying process faster. It is faster and provides more options when you transfer large amounts of data and manage it much more efficiently. Download UltraCopier for Windows.
Download UltraCopier for PC is a cross-platform file copier software designed to optimize and improve the mechanism of copying or transferring files on a PC or other platforms. It includes several useful features that allow you to copy or move files and control the transfer process. When you use UltraCopier over Windows' default file copier program, it lets you pause or resume the process, control the copy speed, and also lets you check for errors, skip files during transfer, search through the copy list, etc. It is even capable of resuming a file transfer process from a reconnected USB drive.
Features of Ultra Copier:
Ultra copiers come in handy when it comes to transferring large amounts of folders and files, or huge-sized files. It can handle the process much more reliably and efficiently than that standard Windows Explorer. It automatically acts when you start copying and pasting files and folders in the usual way: UltraCopier is embedded in Windows Explorer and will take care of the job.
This application makes the process of copying and transferring files much faster and also lets you pause and resume the job at any time, see the transfer speed rate, check the completion percentage, create a list of copied files that can be done or moved, and even modify this list when the process is already running.
This program doesn't replace the default Windows copy/paste features, so if you uninstall it, you will again get Windows's standard copy/paste feature back.
Ultracopier is customizable. You can customize certain details in the program's interface and adjust the behavior of the program through its settings menu.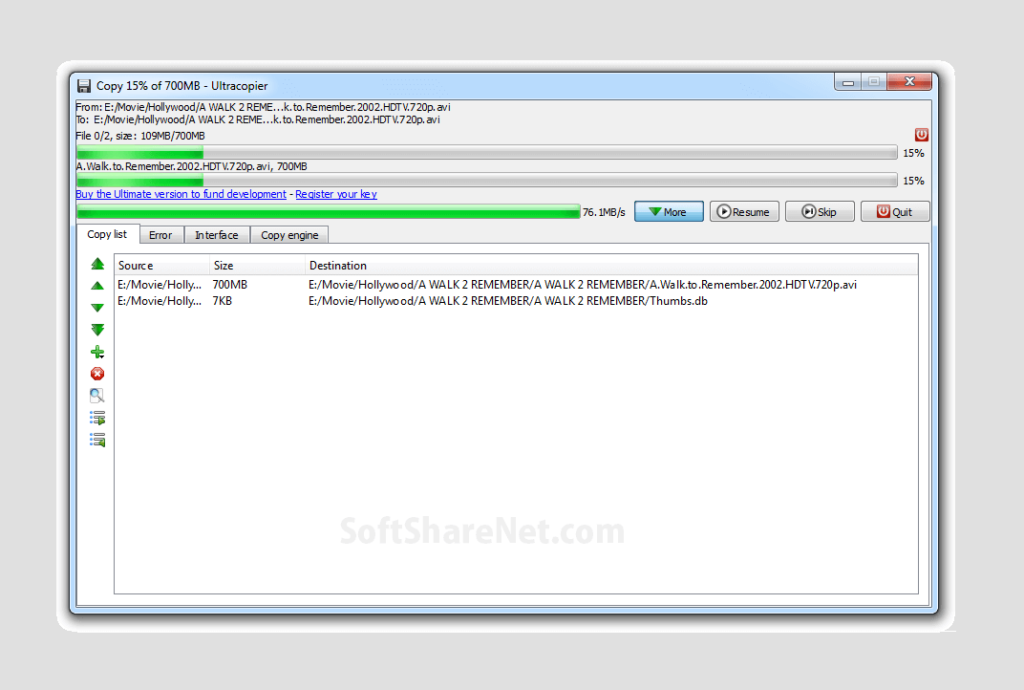 Is Ultracopier free to use?
Yes, the free version of Ultracopier is absolutely free to use. This is an open-source program released under the GPL v3 license and therefore it is  100% free to use. Anyone can download, install, run and even distribute this application with few restrictions. You can download Ultracopier's latest version for Windows PC on SoftShareNet for free. Additionally, if you want to use some extra features, you can buy the ultimate version for only 15 US dollars ($15).
Ultracopier compatibility with Windows:
Ultracopier is fully compatible with all the latest Windows versions including Windows 11. You can run this free file copier on computers running Windows 11, Windows 10, Windows 8, and Windows 7 (32-bit and 64-bit) PC. It also works on Windows Vista and Windows XP.
Technical Description
Name
Ultracopier for Windows
Developer

BRULE Herman

Website
ultracopier.herman-brule.com
Version
2.2.6.6 (Latest Version)
License
 Freeware
OS Support
 Windows 11, 10, 7 (32/64-bit)
Rating
Category
 Utility/Web browser
Language
 English
Updated on
 June 2023
Download UltraCopier for Windows 11, 10, 7:
Download UltraCopier  32-bit, Size: 14 MB
Or
Get UltraCopier 64-bit, Size: 15 MB
Download Ultracopier and install it on your PC to handle the files and folders copy-paste process much faster, more reliably, and efficiently in Windows.
Related Utilities