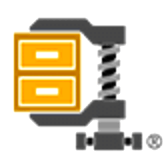 What is WinZip?
WinZip is a comprehensive and all-in-one file archiver app that offers several essential features like managing archive files, updating the contents of a Zip file, Zip any files from any location, unzipping any kind of archives, adding files to the archive using the "drag and drop features", encrypt archives, etc. WinZip Pro and Enterprise versions let you combine your PDF files, lets you convert multiple PDF files into a single PDF file to save, zip, or share easily,  share large files by email, create read-only PDF, add pages to PDF, or delete any page, exporting a PDF to Word, image file, or creating a PDF from any document, and more.
WinZip download for Windows 10, 11, and 7 PC to quickly create archives, unzip archives, compress and decompress any zip file, and manage your zip archives. Using WinZip 26 on Windows PC, you can quickly create a compressed archive that can hold different files and folders, and also decompress and manage your archives. It has some other important features like browsing files, copying, moving, renaming, and deleting files, combining PDFs, etc. Using Win Zip, you can quickly track down your local files, network files, and files stored on the cloud using its built-in search feature.
[WinZip Latest Version is here, download version 28 now]
Winzip Features:
WinZip encrypts your files using high-level encryption to store and share your data securely. This powerful file archiver can create zip files or unzip any archives very fast and efficiently. It is the most powerful and best application for Windows that has an easy and simple interface that is suitable for all types of users such as students, professionals, and general users.
Security is another feature of the Win Zip file archiver. It can encrypt your files easily as you zip to secure information and data. Also, it allows you to create read-only PDFs or to add a watermark to prevent your PDF from copying.
It supports a variety of archive formats. It supports the industry's widest selection of compressed file types, including ZIP, Zipx, RAR, 7Zip, BZ2, LHA/LZH, VHD/VDMK, XZ, and many more. When extracting encrypted files, it auto-wipes all temporarily extracted copies to prevent misuse.
Is WinZip 26 Free to Download?
The WinZip 26 provides a 21 days trial period. After the trial period, you have to buy a license to continue the application. You can download WinZip for PC using the links listed above. Through these links, you can get the offline installer of WinZip from its official website. Download WinZip offline installer and install the program on your computer at any time.
There are several free and paid alternatives to WinZip available, like 7-Zip, WinRAR, Pea Zip, etc. and you can also download these file archivers for free. You can also read this article about the best free file archives for Windows.
How to Download WinZip?
It is one of the most trusted file-compression software used by millions of users worldwide to zip and unzip any files. You can also download and install it on your Desktop or Laptop computer. It supports all Windows systems like Windows 11, 10, 8, and Windows 7 PC. To get it on your PC, scroll down this page to get the download link and click on the link to go to the download page where you can download WinZip offline installers for Windows computers.
There are both WinZip 26 32-bit and 64-bit WinZip installers available. It is also available for other operating systems like macOS, Android, etc. 
Technical Details of the Application:
Name: WinZip 26
Author: WinZip Computing Inc

OS Requirements: Windows 10, 8, 7, XP (32-bit / 64-bit).

Category: File Archiver

License: Trial version/Shareware

Size: —

Version: 26 (Old Version)
Updated on: 17 January 2023
Download WinZip 26 for Windows 11, 10, 8, 7:
WinZip 32-bit, Size: 60 MB
Or
WinZip 64-bit, Size: 62.6 MB
Or
WinZip 20 for Windows XP
Related Archive Manager Apps