What is Driver Easy Free?

Driver Easy is a software application to find and download missing or outdated drivers on your PC  for free. It is an essential freemium app that scans your PC to find any outdated or missing device drivers like Audio driver, Graphics Driver, Bluetooth Devices driver, Ethernet Cards or Modems driver, Scanner or Printer driver, etc, and downloads the proper version of all the required device drives automatically or manually. When you have Driver Easy, you won't have to spend hours finding and updating your computer's driver manually.
Why do we need to update your PC drivers?
Device drivers or driver software are computer programs used to communicate with a computer's operating system and tell the computer's hardware how to operate. All pieces of hardware including internal components, such as your graphics card to external peripherals such as a printer, keyboard, mouse, etc require driver software. Each piece of hardware has a particular driver software.
You should always make sure that your device drivers are properly updated. Not only does this keep your computer in good operating condition, but it can also protect it from major and costly problems. Sometimes computer shows terrible problems and many of them are caused by the use of old device drivers. These issues come in a variety of forms and all have one common factor and they can often be fixed by installing the right driver or updating older drivers.
Updating the PC Driver adds security and fixes compatibility issues, errors, broken code, and sometimes even features to the hardware. But as long as our systems are working fine we tend to forget about the latest driver requirements, which is understandable as the procedure isn't always clear and we all know there is a risk of things going wrong. But Driver Easy Free does it all well including installing the proper device driver, backup and restoring drivers, and uninstalling driver software.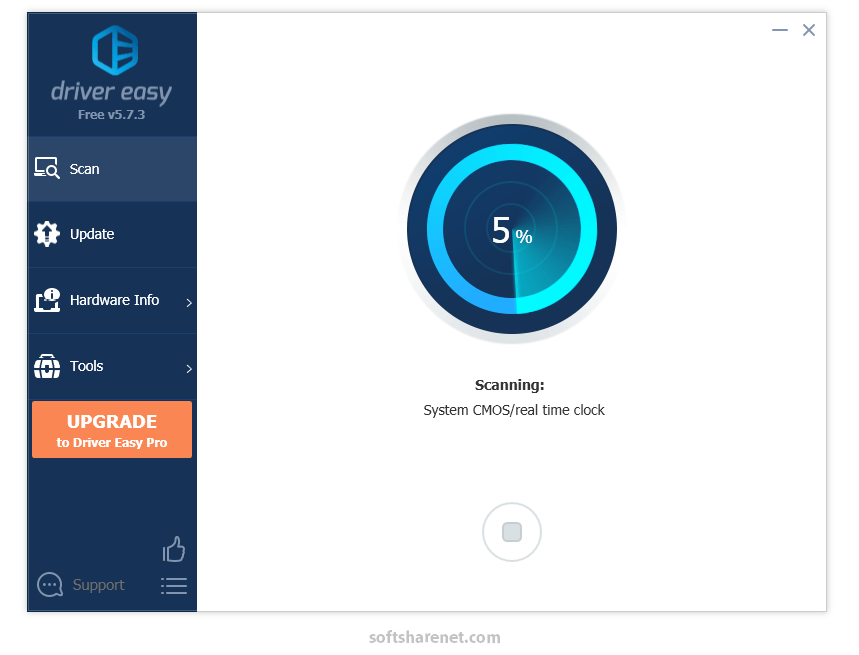 Driver Easy Features:
Driver Easy finds all the missing and outdated PC drivers easily and download them accordingly from its database. When you have Driver Easy, you don't have to spend hours searching sites on the internet for a driver, and saves your time.
Driver Easy Free has a huge collection of device drivers. Currently, there are over 8 million drivers in its database which helps you keep your computer driver up to date to provide maximum performance. It also claims that all drivers are certified, and direct from the manufacturer.
This program requires an active connection to operate. But it also allows secure offline scans for outdated or missing drivers and creates and stores a driver analysis file in the computer to help in downloading a driver from an Internet-enabled computer.
To view detailed hardware information, it embeds with the CPU-Z app. It helps to get the details of all your computer's internal hardware such as RAM, processor, motherboard, video card, network card, motherboard, and more.
It has a Driver backup & Restore feature that lets you roll back to an earlier version of a driver with just a few clicks.
Driver Easy also helps you uninstall drivers of any removed hardware and clean up your system.
Is Driver Easy Free really free?
Yes, the Driver Easy Lite (Also called Driver Easy Free) is 100% free for personal use. But the free version has some limitations such as limited download speed, downloading a driver automatically but the Drivers must be installed manually by the user, doesn't support the "Roll back to the previous version of drivers" feature, etc. So you can use Driver Easy Free version to download the correct drivers on your PC for free.
There are several other software available that can find and download drivers for PCs. Driver Easy is one of the best free driver finder software for PC.
Top Features of Driver Easy:
It is a very lightweight program (Size under 5 MB) that consume fewer system resource.
It can automatically detect the required driver and download it accordingly.
It also helps to find out any outdated, missing, or mismatched drivers
As said on the Driver Easy website, they have more than 8,000,000 drivers in their database.
The free trial version is enough to fulfill your requirement.
Program Name: Driver Easy Free

Website: drivereasy.com
Category: Utilities

License: Free

Size: 5.6 MB
Version: Latest Version

OS Support: Windows 11, 10, 8.1, and Windows 7.
Download Driver Easy Free for Windows:
Disclaimer: All logos, photos, etc. used on this page are the property of their respective copyright owners and are used here for educational and informational purposes only.
Driver Easy has a very simple interface and is easy for anyone to use, most importantly the free version. It helps you find the driver you need without spending a penny. It is a very lightweight application (only a 5 MB setup file) that does not require much disk space and takes only a few system resources to work. Download the latest Driver Easy Free for Windows using the link above. It is 100% safe and secure for your computer.
Related Software