What is BlueStacks App Player?
BlueStacks App Player is an application used to run Android apps on a Windows computer. BlueStacks allows you to use the mouse and keyboard from your computer system to run and control Android Apps. It can run multiple Android apps at once in different tabs within the BlueStacks app. It is capable of running millions of Android apps including WhatsApp, Instagram, TicTok, Google Maps, etc, and popular games like PUBG, COD, Subway Surfers, etc.
How to Download BlueStacks 4:
BlueStacks Android emulator helps you to run APK or Android Apps on a Windows computer. It allows you to play your favorite mobile games in full-screen mode on your computer. If you want to install Bluestacks on your PC, then you have to download the installer package of this app. There are both 32-bit and 64-bit installers separately available for Windows PC. You can download the required installer (32 or 64-bit) as per your computer system to install the program.
On this page, you can find the official links to get BlueStacks App Player Edition 4 for Windows 7 or newer versions. The download links are located below after the "Technical Description".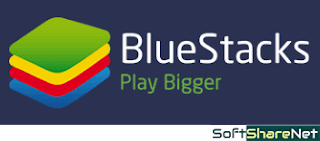 Using BlueStacks 4, you can run thousands of Android applications or APK installers directly on your computer. You can play your favorite mobile games like PUBG Mobile, Temple Run, Subway Surfers, Candy Crush Saga, or several others on the big screen or you can run your other favorite mobile applications and mobile messenger apps on your Windows PC. Get BlueStacks Offline Installer for Windows PC on SoftShareNet.
BlueStacks is a fully free application available for Windows operating systems. It also allows you to sync the apps from your phone using the Cloud Connect Android app. This APK app player is a great tool for allowing you to run your favorite mobile apps/games in full-screen mode using a PC.
Publisher's descriptions:
With BlueStacks, you don't have to tie yourself to a charging cable because your phone has 9% battery left or turn 'Do Not Disturb' on so you don't get killed mid-battle. BlueStacks 4 brings distraction-free mobile gaming to the next level with lower memory usage, lower CPU usage, and significantly improved gaming performance.
System requirements for BlueStacks 4 Latest Version

:
Operating System: BlueStacks requires Microsoft Windows 7 and above. Windows 7 is the minimum OS requirement and Windows 10 is better for running the BlueStacks latest version.

Processor: It can be run on an Intel or AMD Processor. However, an Intel or AMD Multi-Core Processor is recommended for a better experience.

RAM: It requires at least 2GB, but the recommended RAM size is 8 GB.

HDD: 5GB Free Disk Space.

It needs up-to-date graphics drivers from Microsoft or the chipset vendor.

Internet: Broadband connection to access games, accounts, and related content.
New Features in Bluestacks 4:
The Controls editor now has the MOBA D-pad. Use it to move around freely in any direction for 360-degree movement in your favorite MOBA games.
You can now adjust the mouse sensitivity for horizontal and vertical movements easily in the Controls editor. The Aim, pan, and shoot key control also lets you change the mouse sensitivity without entering the advanced settings menu.
Zoom precisely where you want to on your game screen. Place your cursor at the point where you want to zoom in/out. Then, press and hold the CTRL key and scroll the mouse wheel.
Now, access advanced settings for key controls in the Controls editor with the new gear icon available at the bottom of each control key.
The Settings menu has been improved to make it easier for you to perform the following functions:
Allocate CPU cores and RAM quickly under the Engine tab.
Manage your device settings easily using the Device tab
Various UI improvements have been made to your BlueStacks home screen to bring you a neater and more organized appearance.
BlueStacks 4 will work on systems that fulfill the minimum systems requirements. However, It is better to use the recommended hardware and software to experience a smooth and superior gaming experience on BlueStacks. The technical details of the application are listed below:
Software Technical Details

| | |
| --- | --- |
| Name | BlueStacks App Player v4 |
| Developer | Bluestack Systems Inc. |
| Website | www.bluestacks.com |
| Version | 4.280.0.1022 |
| License | Freeware |
| OS Support | Windows 11, 10, 7 (32/64-bit) |
| Size | 528MB/529 MB |
| Category | Android Emulator |
| Rating | |
| Updated on |  27 October 2023 |
Download BlueStacks 4 for Windows 10, 8, 7:
BlueStacks 4 (32-bit), Size: 528 MB
BlueStacks 4 (64-bit), Size: 529 MB
Or
Get LDPlayer 9, the best lightweight emulator for PC and the best free alternative to BlueStacks.
You can get the latest version of BlueStacks 4 for Windows 7, 8, 10, and 11 (32-bit and 64-bit) operating systems using the links above. These standalone installers contain all the necessary files and data required to install BlueStacks on a computer. These BlueStacks Offline Installers are fully official. Use these offline installer files to install the BlueStack Android emulator and enjoy your favorite mobile game on your computer screen for free.
Related Software