ZoneAlarm Free Firewall for PC provides complete firewall protection to your PC without any cost. It uses modern and effective techniques to prevent misuse of your network connection by various applications and also prevents attacks from outside. After downloading and installing ZoneAlarm Firewall, your PC will get protection against inbound and outbound cyber attacks, as it blocks unwanted traffic, and control program access to the internet. It also lets you stay invisible to hackers and guard your personal data.  It is available for Windows 11, 10, 8, and Windows 7 (32-bit and 64-bit) computers.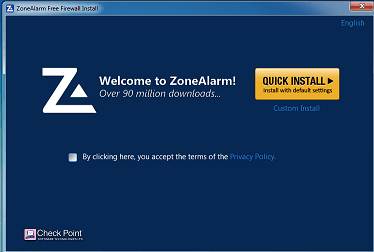 ZoneAlarm Free Firewall:
The ZoneAlarm Firewall is one of the best free firewall applications for Windows computers. A firewall is a network security system to controls the incoming and outgoing network traffic and prevents your computer from unauthorized access, done through the internet. It provides strong firewall protection to protect your computer from criminal attacks, malware, etc. The ZoneAlarm Firewall for Windows computer download link is listed below.
It is strongly recommended to use a firewall program on your PC if you are using a free antivirus program as most free antivirus programs do not provide firewall protection. The free ZoneAlarm Firewall is fully compatible with Windows Defender and other antivirus solutions. 
---
Also Read: Top 5 Free Antivirus for Windows PC
---
Features of ZoneAlarm Firewall Free Version:
The ZoneAlarm free firewall provides the following firewall protections. The pro version has some additional features such as Advanced-Access Protection, Component Control, Advanced Settings Control, 24/7 Online Support, Ad-free service, etc.
WiFi PC Protection:
ZoneAlarm free firewall monitors programs for suspicious behavior and shields your devices from hackers, identity thieves, and other online threats when the devices are connected to an unsecured network.
Traffic Monitoring:
Our two-way firewall monitors the traffic entering and exiting your computer network, making your PC invisible to hackers and stopping spyware from exposing your data to the internet.
Early Boot Protection:
With Early Boot Protection, your PC can detect whether it's running a trusted operating system or a dangerous rootkit, hence protecting your computer.
Identity Protection:
It is very helpful when it comes to preventing identity theft by guarding your personal data;
Safe Search:
Search the web securely and get alerted of dangerous sites before accessing them. Our Safe Search engine lets you know which sites are safe to enter and which to avoid.
Anti-Phishing:
Protects your private information from phishing attacks while you browse online. Scans URLs to prevent you from entering your personal information on websites that are known to carry security threats. (Included in Web Secure Chrome Extension).
Safe Document Download:
ZoneAlarm free firewall uses Zero-Day Protection to remove potentially malicious features from file downloads, such as macros, embedded objects, and other malicious content. (Included in Web Secure Chrome Extension).
Details of ZoneAlarm Free Firewall:
Name: ZoneAlarm Free Firewall

Developer: Check Point

Website: zonealarm.com
Category: PC Security/Firewall

License: Free

Installer type: Online/Web installer

Version: 15.8.213.19411 (Latest Version)
Size: 5.7 MB

Operating System: Windows 11, 10, 8, and Windows 7 (Support both 32 and 64-bit Windows OS).
Download ZoneAlarm Firewall for Windows:
Related Software