GIMP is a powerful free photo editing software for Mac OS. Download the latest version of GIMP for Mac OS free. It is a cross-platform free graphics designing software available for Mac OS. GIMP application is also available for Windows and GNU/Linux operating systems. GIMP stands for GNU Image Manipulation Program. It is a very advanced photo retouching software that provides you with sophisticated photo editing tools and features. Download the new GIMP for macOS free from its official source on SoftShareNet.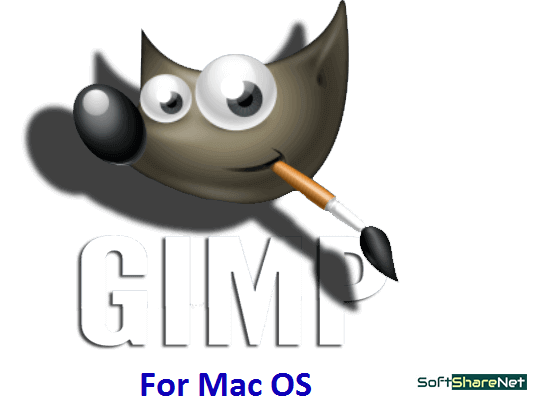 GIMP for Mac OS:
The GIMP stands for GNU Image Manipulation Program. It an open-source and freely distributed program use to execute tasks like photo retouching, image composition, image authoring, etc. GIMP is very helpful for graphic designers, photographers, illustrators, or artists. It provides you with sophisticated tools to get your job done easily and quickly. Besides the high-quality image manipulation feature. GIMP is used for producing icons, editing photos,  designing graphical elements, and art for user interface components and mockups.
GIMP supports several third-party plugins. Therefore, it can be customized using these 3rd party plugins to extend its capabilities. On this page, you can download the latest official release of the GIMP for Mac OS X 10.9 or later versions.
Features of GIMP:
Open-Source free photo editing program. In addition to using it, you can change its source code and distribute your changes.
GIMP is a highly customizable program. As it supports many third-party plugins, you can customize it according to your work environment or requirement.
GIMP supports several file formats like JPEG, PNG, GIF, TIFF, XPM, TGA, MPEG, PS, PDF, PCX, BMP, and many other formats and this capability can be extended using a plug-in.
GIMP is a cross-platform application. It can be run on different operating systems like Windows, Mac OS X (10.6 and later), Linux, etc.
GIMP Software technical details:
Name: GIMP (GNU Image Manipulation Program)

Developer: The GIMP Team

Website: gimp.org

License: Free (GPL)

Category: Graphics Design

Operating system: Mac OS X 10.9 or later versions

Version: 2.10.22 (latest version)
Size: 165 MB
Added on: April 17, 2021
Download GIMP for Mac OS: