Windows 7 Service Pack 1 (SP1) 64-bit is one of the major important system updates for the Windows 7 64-bit operating system. It contains several new updates that improve Windows performance, provide stability to the computer system, and increase system security by patching the security holes and fixing bugs in the operating system. Windows 7 SP1 also contains all the previously released updates delivered over Windows Update for the OS. You can download the Windows 7 Service Pack 1 offline installer for Windows 7 32-bit and 64-bit platforms for free. Get Windows 7 SP1 KB976932 update from Microsoft's official site on SoftShareNet.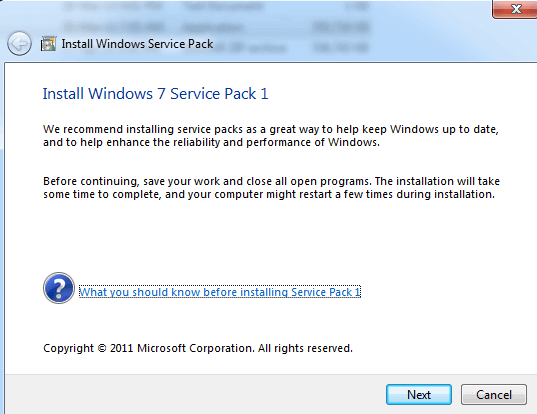 Windows 7 Service Pack 1 is a single installation package (standalone installer) that contains a set of updates and security features to make the computer system safer and more reliable. This service pack will keep your computer system up to date and make it secure and more compatible with new software.
How to Download Windows 7 Service Pack 1:
There are two versions of this Windows Service pack, 32-bit (x86) and 64-bit (x64). Each version is developed for the specific platform of Windows. The 32-bit version of Windows required the Service pack 32-bit (x86) and the 64-bit Windows required the Service pack 64-bit (x64). Therefore, before downloading any service pack, you'll need to know if your PC is running a 32-bit (x86) or 64-bit (x64) version of Windows 7.
To check your Windows version (platform), first, click the Start button, then right-click Computer, and then select Properties. The version of Windows 7 is displayed next to the System type. (See image below)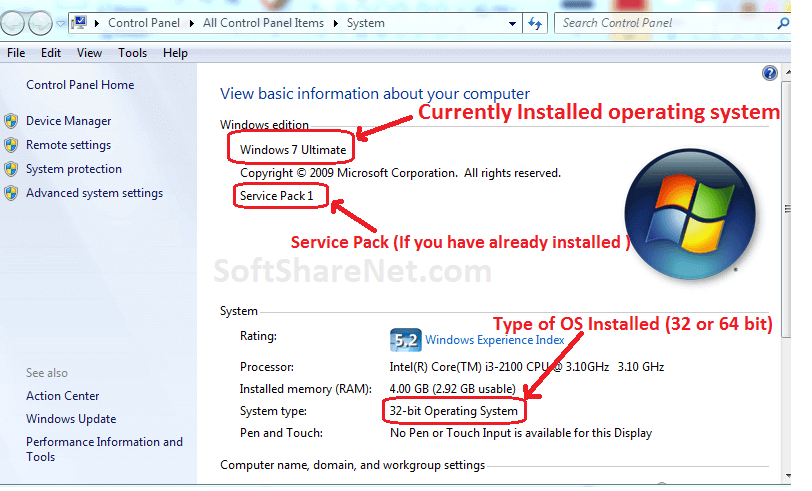 You can download this Service pack (Windows 7 SP1) by using the download links listed on this page. Since the Windows 7 Service Pack 1 offline installer files are quite large, it is recommended to use a download manager app like IDM or Free Download Manager (FDM) to download the service pack.
---
Related Software:
---
How to Install Windows 7 Service Pack 1:
First, download the appropriate version of the service pack according to your operating system. After downloading the setup file, find it in the download folder and then double-click on it. Now click Yes on the next pop-up window to allow this program to make changes to the computer and then click Next. There are a few steps where you need to click Next or have to accept the software terms and conditions to start the installation process of Windows 7 Service Pack 1. It takes about 30 minutes or more to install, and your computer will restart in the middle of the installation.
Technical Details of the Program:
Program Name: Windows 7 SP1

Developer: Microsoft.

Version: KB976932

Category: System Update

Installer Type: Offline Installer

File size: —

OS Required: Windows 7 (64-bit)

Rating:
Download Windows 7 Service Pack 1 64-bit:
Download SP1 for Windows 7 64-bit, Size: 903 MB
Or
Download for Windows 7 SP1 32-bit
Or
Service Pack 1 for x64-based Windows Server 2008 R2 Systems
Size: 903 MB
Download Windows 7 Service Pack 1 (32-bit) offline installer from its official website using the above downloads and make your computer up-to-date, faster, and secure. This Windows 7 SP1 offline installer does not require an active internet connection to install it.  Also, you can use this installer file to install this program on other computers again and again.
Related Software for Windows