PrivadoVPN is a top-notch, and easy-to-use free VPN for Windows 10 and 11. It is among the quickest VPN software available for PC. All you have to do is click the app and you can instantly connect to any nation in the world. PrivadoVPN Free ensures your safety without compromise. If you wish to view content from a specific region, just connect to a server in that area and access it with ease. Privado VPN download is free and it is one of the most popular VPN services that provide hundreds of servers in 48 countries and 63 cities all over the world.
It is considered one of the fastest free VPN providers in the world. PrivadoVPN Free can be downloaded for Windows 11, 10, and 7 (32-bit and 64-bit) PC.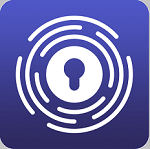 In addition, this VPN has an experienced geoblocking team who are skilled at unblocking various streaming platforms such as Netflix and BBC, which even many paid services are unable to do. Therefore, it is an ideal choice for people who wish to access content from different countries and regions globally.
Is PrivadoVPN Free for Windows?
Yes; PrivadoVPN Free is a completely free VPN tool for Windows PC and it provides 10 GB of full-speed unrestricted bandwidth per month. Wait, it is not done yet. You will still get unlimited VPN even after finishing the monthly data in "over-quota" mode at a limited speed. Upon finishing the unrestricted 10 GB data before the date, it will switch your connection to a slower 1Mbps server that provides unlimited data and you cannot change the server during this over-quota mode. The only thing you need to get this 10 GB of data per month is to sign up for a free PrivadoVPN account with a valid email ID.
PrivadoVPN Free vs Proton VPN Free:
PrivadoVPN Free has been doing a great job of trying to catch up to Proton VPN, which has been the reigning champion for ages. But finally, with their recent updates, PrivadoVPN managed to overtake it. There are also many similarities between these two free VPN applications. Both these VPNs use the widely-used OpenVPN protocol, with added military-grade AES-256 encryption and Perfect Forward Secrecy.
Proton VPN's free version provides unlimited bandwidth, whereas PrivadoVPN Free gives you 10 GB of unrestricted monthly data and after consuming your 10 GB of monthly data, your speed will be limited to 1 Mbit/sec and one server. If you are not aware of Proton VPN, then you can read about and download Proton VPN for free here.
You can install this VPN on one device at a time with the free service. But if you want to get unlimited data and access all the global servers, or want to install PrivadoVPN on up to 10 devices simultaneously you can choose an affordable Premium plan.
Main Features of PrivadoVPN Free:
Unlimited Bandwidth:
It provides users a 10 GB of highspeed monthly data and if you consume the 10 GB of data before the date, your speed will be limited to 1 Mbit/sec, and can access one server.
Simple Fast connection with one click:
You don't have to be a tech-savvy person to use this program. Anyone can install this on Windows PC and it lets connect to a server with just one click.
Free of cost:
You can sign up for a PrivadoVPN account without paying any money and gain access to 10 GB of data per month. This VPN can be installed on one device at a time when using the free service.
Multiple servers:
It lets you access hundreds of servers in 48 countries and 63 cities all over the world.
Safe and Secure VPN:
This service utilizes a variety of VPN protocols, such as OpenVPN, IKEv2, WireGuard, and SOCKS5, for a balance of security and speed; obscures your IP address to allow you to remain anonymous on the web; encrypts all your online data using end-to-end with 256-bit AES encryption
Supports multiple platforms:
Cross-platform support is another notable feature of this free VPN application. PrivadoVPN Free is available for several operating systems and platforms including Windows, macOS, Linux, Android, iOS, Android TV, Amazon Fire TV, Asus Router, DD-WRT Router, pfSense, etc.
How to download PrivadoVPN for Windows?
Even you can download it from its official website (https://privadovpn.com/), but you have to click on several options to get the link. Therefore, here we have shared the direct PrivadoVPN Free download link for Windows PC. Just scroll below to the download section and click on the download button to go to the download page, where you can download it directly from its official page.
Technical details of the software:
PrivadoVPN Free Download for Windows:
Click the below button to get the PrivadoVPN installer for Windows 32-bit and 64-bit PC.
To get PrivadoVPN Free download links for other platforms, click here:
Best Free Alternative to Privado VPN:
How to Install PrivadoVPN?
First, download the application using the above PrivadoVPN free download link. After downloading the VPN installation file to your computer, click the Setup_PrivadoVPN_latest.exe file to start the installation process. Then click on "Install" and then follow the instructions to install PrivadoVPN on your Windows 11, or 10 PC. The installation will be completed within a few minutes.
How to get PrivadoVPN for Free?
There are both free and paid versions of this application available. To use this VPN for free, you have to signup for the free version. Just launch the app after completing the installation process and click on the signup button.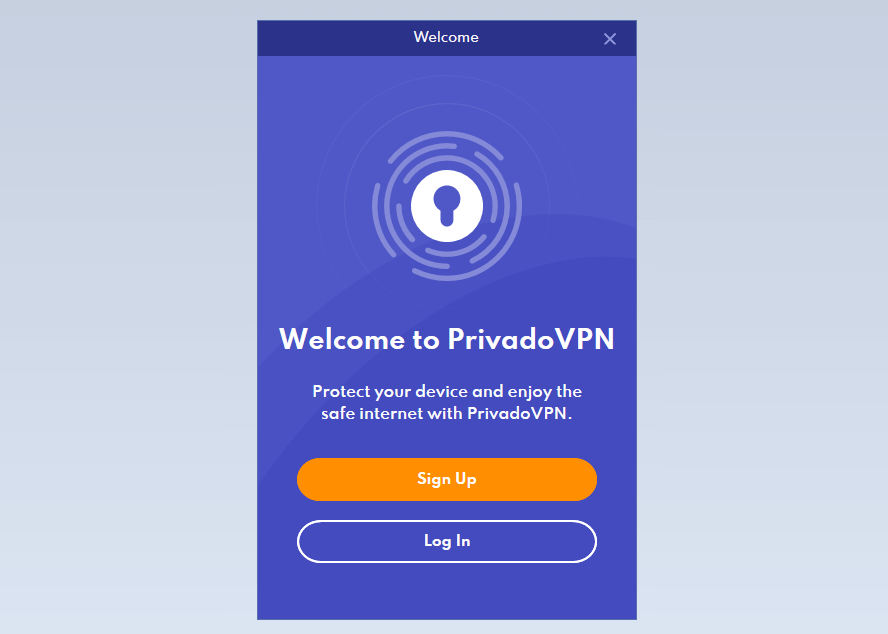 After clicking the signup button, you have to enter a valid email address on the next signup window and have to click on the "Get Free VPN" option to receive the account verification link.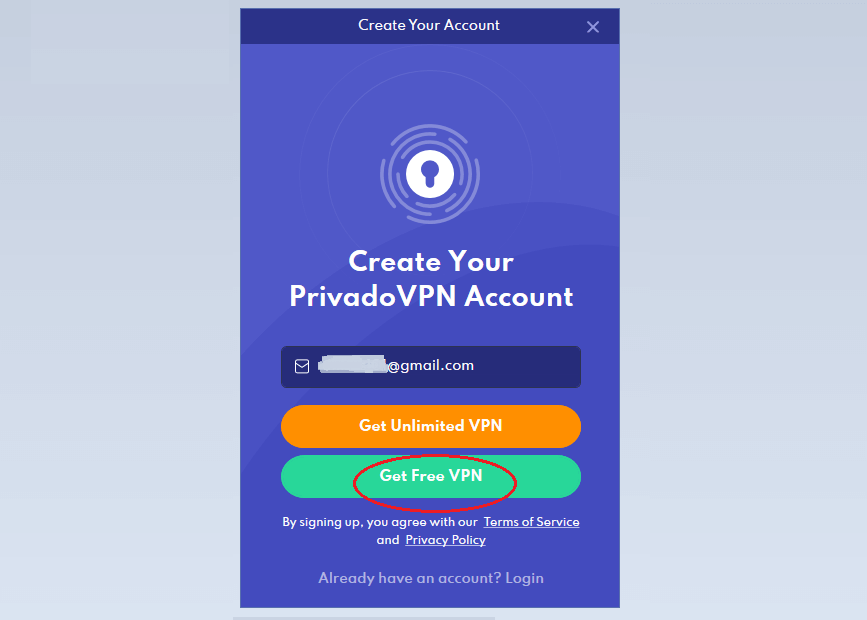 Now open your email and search for mail from PrivadoVPN. Don't forget to find it in the spam folder too if not found in the primary mail folder. Upon finding the mail, open it and click on the "verify now" option. Now you are all set to use this free VPN on Windows.
Related Software