After releasing the initial version of the new Microsoft Edge browser based on chromium codes on April 2019 for Windows 10, now Microsoft has also released the chromium Edge browser for Windows 7 and Windows 8/8.1. Microsoft recently announced in an official Windows blog that the Chromium-powered latest Edge browser is now available for Windows 7, Windows 8, and Windows 8.1 and here on SoftShareNet.com, you can download the latest Chromium-powered Edge Browser installer for Windows old versions and also for Windows 10 and Mac OS.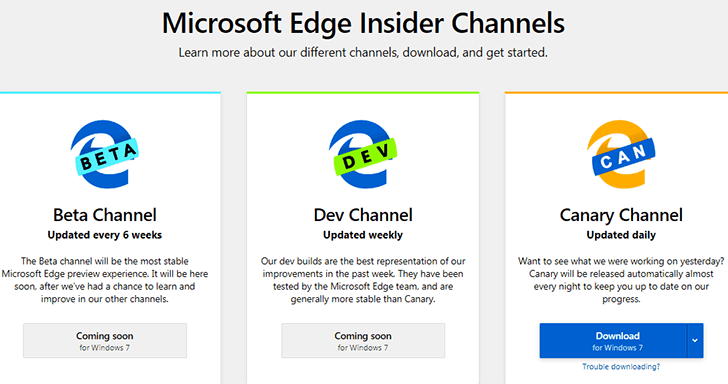 Remember that this is the initial developer version of the chromium Edge browser. So, you can expect or face bugs and mess with the user experience and some sites, services or extensions may not work properly. Microsoft is still testing its Chromium Edge Browser on Windows 7/8, Windows 10, and macOS so that they could find and fix the bugs and launch a better and bug-free stable version of this new browser.
In an official Windows blog, Microsoft recently announced about release of the latest Chromium powered Edge browser for Windows 7, Windows 8, and Windows 8.1:
"Today we are excited to make preview builds from the Microsoft Edge Canary channel available on Windows 7, Windows 8, and Windows 8.1. This rounds out the initial set of platforms that we began to roll out back in April, so developers and users alike can try out the next version of Microsoft Edge on every major desktop platform."
How to download and install the new Microsoft Edge on Windows 7/8/10:
Microsoft is offering an online installer to install Chromium-Based Microsoft Edge. First, go to the Microsoft Edge download page through the link listed at the bottom of this page. Then select the installer as per your OS version and then accept the Microsoft Software License Terms for Microsoft Edge and download the official installer of the Edge browser.
Microsoft Software License Terms
After downloading the installer, run it to download and install the new Edge browser. It will take one or a couple of minutes to download and install the browser. After installing the browser, you can import the bookmarks, history, and other data from your Chrome Browser. 
You can download the installer of the new chromium-based Microsoft Edge Browser for Windows 7, 8, Windows 10, and Mac OS using the official download link listed below.

Download for Windows 10, 8, 7
Download for Mac OS