Google Chrome for Windows PC provides a very secure and smooth web browsing environment on your computer. It is one of the most used free web browsers in the world on both desktop and mobile platforms. Chrome is a feature-packed browser that offers all the features required to handle any modern website or web application.
Apart from browsing the web, the Chrome browser has several other essential tools and features like playing different media files, reading PDF files, math calculators, instant search, etc. to help users in various ways. Download Google Chrome for Windows from here for free.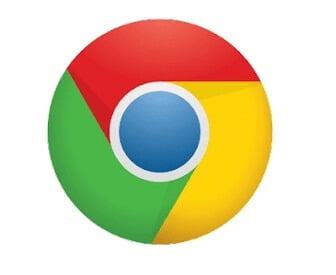 The latest version of Google Chrome provides the fastest and very smooth web browsing. It is one of the most secure internet browsers available for almost all operating systems. It has a clean and friendly interface that makes the browser easy to use.
Although Chrome is a simple-looking browser, it is yet another powerful web browser capable of handling all types of web applications and online tasks. You can also use the Chrome browser as a multimedia player to play or view media files like (images, audio, and video) and it is also capable of reading PDF files. Google Chrome's latest version lets you customize it according to your requirements. You can access the setting options by clicking the three vertical dots, available in the top right corner. 
Google Chrome 119.0 Released:
The latest release of Google Chrome for Windows is 118.0 which was first released on 05 October 2023. This update includes some new features and bug fixes.
How to download Chrome Browser?
If you want to install a fresh copy of the Chrome browser on your PC or want to update the existing Chrome web browser, then you can download Google Chrome offline installer directly using the links listed on the download page. The latest edition of Google Chrome supports the modern versions of Windows Operating Systems, such as Windows 11 and Windows 10.
For Windows 7 and 8 PCs, you have to download an old version of Chrome that is compatible with these old operating systems. 
As Windows computers are divided into two groups based on their architecture, 32-bit, and 64-bit versions, therefore there are also two types of Chrome Windows installer available, Chrome 32-bit and Chrome 64-bit. If you have a 64-bit Windows PC, then you need to download the Chrome 64-bit installer, otherwise, you will need the 32-bit installer. Please download the appropriate version as required by your PC. You can determine the Windows version of your PC in the System Properties window.
Technical Description

Name

 Google Chrome for Windows

Developer

 

Google

Website

 www.google.com/chrome
Version
 119.0

License

 Freeware

Operating System

Windows 11, 10, 8 (32/64-bit)

User Rating

Category

Web Browser

Language

US English

Updated on

 November 2023
Download Google Chrome for Windows 11, and 10:
[Note that you are accepting the Google Terms of Service and Chrome and Chrome OS Additional Terms of Service by downloading Google Chrome Offline Installers]
Features of Google Chrome for Windows PC

:
It has a simple easy to use friendly interface.
It loads web pages faster than other modern web browsers.
Chrome Browser provides multi-tabbed browsing features to view more than one web page in one window.
It has built-in phishing and malware protection to protect your PC
It offers a private browsing window, namely Incognito Mode browsing for privacy protection.
Chrome browser easily syncs user data like bookmarks, settings, and extensions on multiple computers using your Google Account.
The Highlight and Search feature allows you to search any word directly without typing the word in the search bar. 
The offline Installer package allows you to install the browser on different computers. On this page, we are sharing the Chrome Offline Installer download links for Windows. Click here to learn more about offline installers.
Google Chrome supports many third-party extensions to perform beyond your imagination.
You can search for any content on the web or go to a website directly through the search bar or also known as Omnibox at the top. 
You can apply any theme to your Chrome browser to make it beautiful.
Google provides a standalone installer to install the latest version of the Chrome browser on any computer.
How to browse safely in Google Chrome:
Update Chrome regularly :
We all know that Chrome's latest version is considered one of the most secure and reliable web browsers for PC and smartphones. Chrome always trying to protect devices and our data from dangerous threats by providing new security updates in every new version of the Chrome browser. The only thing we need to do is to update our browsers regularly.
This helps the browser identify and prevent malicious links, websites, and programs to provide us with a secure internet browsing environment.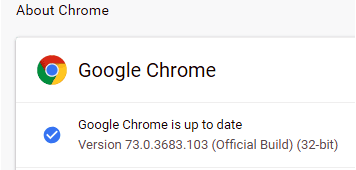 How to update Chrome Browser:
By default, Google Chrome updates itself automatically whenever your computer connects to the internet. But, if your browser is unable to update itself, then you can update it manually too. To update your Chrome browser manually, first, click the three vertical dots (⋮) at the top right corner (just below the close button) and then click Help and then About Google Chrome.
If your browser is already up to date, then you will see a window like shown in the image above and there is nothing to do as your web browser is already up to date. Otherwise, click the Update Google Chrome option to update it manually. Then relaunch the browser after completing the update process.
If you are still unable to update your browser using the above method, then you need to download the Google Chrome latest version offline installer setup file through the link shared on this page and install it on your PC.
Avoid using unnecessary extensions: 
The latest Google Chrome supports a large number of third-party browser extensions. These extensions extend the capability of the browser by adding many useful features. But using so many extensions can make your browser vulnerable. Because some browser extensions need permission to access everything to run and work properly.
Sometimes these extensions can be hacked easily and the hackers can turn them into malware. Then the extension can steal every information from your browser and device. Therefore, never use unnecessary and non-reliable browser plugins and extensions. Always see the user reviews recommendations of any extension before installing. Some extension is also capable of inserting a dangerous script into your browser.
During surfing the web on Google Chrome, sometimes we get to see some warnings on our computer screen about deceptive sites or sites containing some harmful content. It has an inbuilt Phishing and Malware detection tool. If any website contains harmful software, code, or malware, then this tool warns the user not to visit such a website.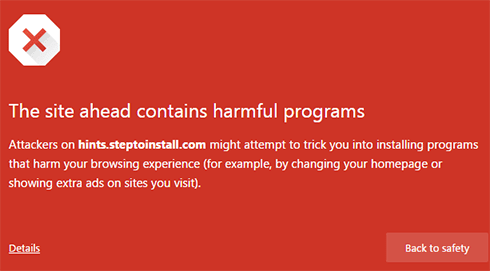 Browse in Incognito mode:
Google Chrome's Incognito browsing mode is another safest way to browse the internet safely. Incognito mode is a private browsing window provided by the Chrome browser. You can turn on the incognito mode at any time by pressing Ctrl, Shift, and N keys simultaneously (Ctrl+Shift+N). When a user activates the incognito mode on Chrome, Google Chrome completely disables the user's browsing history, cookies, and web cache. 
Incognito mode allows users to surf the internet without worrying about their privacy and the spread and recovery of their browsing information. The Chrome browser never stores data entered during incognito mode and automatically and instantly removes all browsing history and cache after closing the Incognito mode window. 
[Read: How to properly use the Incognito window in Chrome]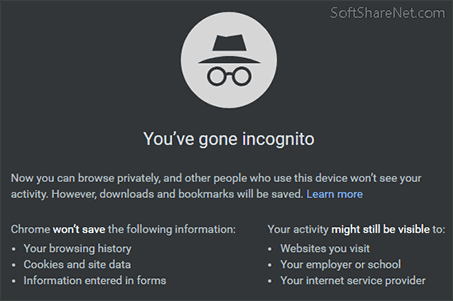 The incognito mode is very useful during online shopping, online banking, transactions, etc. This helps users to close and leave the browser without leaving their mark on the internet.
The Chrome browser has an inbuilt safe browsing option. It protects your device from dangerous sites and links. You can turn it on or off manually. Go to Settings, then scroll down to the end, and click Advance. Now you can turn off or turn on the Safe Browsing option. 
Conclusion:
There are lots of web browsing applications available for your Windows computers. But your browser should be free of bugs to operate freely, secure enough to use safely, enough powerful to handle any request, and fast enough to load web pages instantly.
If you need all these features in a package, then download Chrome browser for your PC and start browsing the internet, shopping online, and doing banking on your desk, freely and safely. Go to the download page through the above links and download Google Chrome for Windows PC for free.
Related Software