ZoneAlarm Free Firewall provides complete firewall protection to your PC without any cost. It uses the modern and effective technique to prevent misuse of your network connection by various applications also prevents attacks from outside. Download ZoneAlarm Free Firewall for Windows computer. It is available for Windows 10, 8 and 7 (32 bit and 64 bit) PC.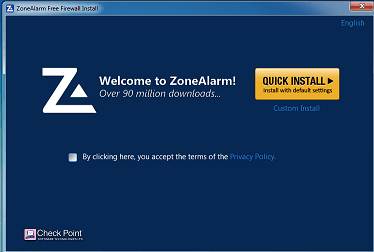 ZoneAlarm Free Firewall:
The ZoneAlarm Firewall is one of the best free firewall applications for Windows 10, 8, Windows 7 computers. A firewall is a network security system to controls the incoming and outgoing network traffic and prevents your computer from unauthorized access, done through the internet. It provides strong firewall protection to protect your computer from criminal attacks, malware, etc. 
It is strongly recommended to use a firewall program on your PC if you are using a free antivirus program as most free antivirus programs do not provide firewall protection. The free ZoneAlarm Firewall fully compatible with Windows Defender and other antivirus solutions. 
Details of ZoneAlarm Free Firewall:
Name: ZoneAlarm Free Firewall

Developer: Check Point

Website: zonealarm.com
Category: PC Security/Firewall

License: Free

Installer type: Online/Web installer

Version: 15.8 (Latest Version)

Size: 5.7 MB Operating System: Windows 10, 8, and Windows 7 (Support both 32 and 64 bit Windows OS).
Download ZoneAlarm Firewall free for Windows PC: